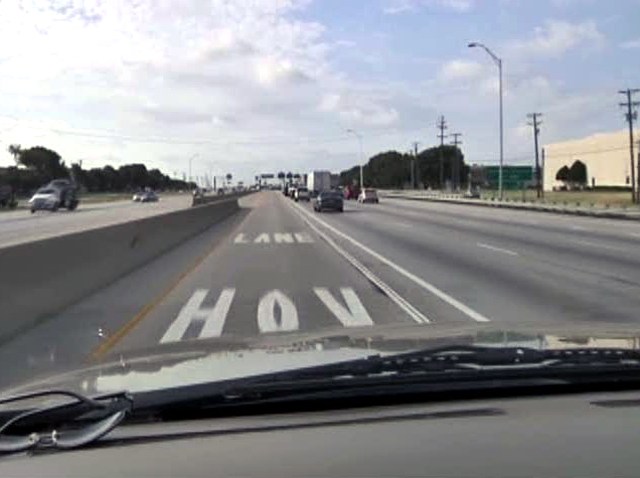 Would you pay to get in a carpool lane if you were driving alone? Dallas Area Rapid Transit is betting you will.
Cars with two or more people, as well as motorcycles and buses, can currently hop into the HOV lanes on some Dallas freeways. But DART executives are proposing opening up some of those lanes to cars with no passengers if the driver pays a toll of 14 cents to 33 cents per mile, depending on the time of day and the amount of traffic.
"It helps us better use an existing resource, which is the HOV lane, and it also helps us improve mobility in the main lanes," DART spokesman Morgan Lyons said. "We have some extra capacity. We want to try to use it well."
Local
The latest news from around North Texas.
DART wants to roll out the plan in 2012 on the least-used HOV lanes in Dallas; namely, Interstate 35E at U.S. 67 in South Dallas and LBJ Freeway, east of North Central Expressway. DART operates 84 miles of HOV lanes in its service area.
"We'd really be looking at just a couple of segments of lanes right now to understand how this would work," Lyons said.
The HOV proposal could bring the agency millions of additional dollars each year.
But the transit agency would also have to devise a billing system, as well as a way to measure traffic in real time. DART is considering a device California uses to count the number of people in each car.
"If they're going to do it, I hope they're going to have some more HOV lanes, because that one lane is going to be (so) backed up that it wouldn't even be worth it," commuter Shirley Massey said.
"I think anything that would help traffic is a fantastic idea," said Patty Stewart, another commuter. "I'd be all for it."
But other drivers weren't as enthusiastic. Lowell Franklin said the idea is a conflict of the spirit of carpool lanes.
"If you're going to pay for it, that's basically turning it into a tollway," he said. "It just seems they're looking for revenue."
The DART board has yet to discuss or vote on the high-occupancy toll proposal. The board is expected to take a look at the plan later this month or early next month.
Houston already has HOV toll lanes for cars with less than three riders.
NBCDFW's Ellen Goldberg contributed to this report.