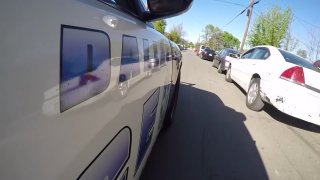 Dallas police have arrested man they say dragged and injured an officer while fleeing from a traffic stop Saturday afternoon.
Officers responded to a suspicious person call on Maple Avenue around 2 p.m. According to police, two men were allegedly selling drugs at the location of the call.
Police said the officers spotted the vehicles of the two men, performed a traffic stop and quickly learned the men were both wanted felons.
According to police, while the officers attempted to arrest the driver and passenger of the vehicle, they drove off at what police described as "a high rate of speed."
One of the officers was dragged several feet as a result, police said, and was transported to a local hospital after he injured his leg.
The officer was in stable condition.
A few hours later at about 9:30 p.m., officers found the suspect in the assault on a public servant, Jessie Faz, in the 1000 block of Routh Street.
Local
The latest news from around North Texas.
Faz drove off when police initiated a traffic stop with lights and sirens. The officers pursued Faz to the 10400 block of Elam Road, where he was taken into custody, police said.
He was taken to a local hospital to be treated for injuries, and will be booked into the Dallas County jail.