Dallas police have arrested a Mesquite man wanted in a case of animal cruelty, officers say.
Sebastian Acosta, 20, was arrested midnight Friday on a charge of animal cruelty to non-livestock torture/kill, which is a third-degree felony, the department announced Friday morning.
The arrest followed investigators' calls for the public's help locating the man seen in pictures and video hauling dogs in the bed of a silver pickup truck Wednesday in the 2400 block of Dowdy Ferry Road. Investigators said the man killed two Pyrenees-type puppies by physical assault.

The video was recorded on game cameras placed in the dumping site by Jeremy Boss, an animal advocate who founded the Dowdy Ferry Animal Coalition.

In six years, he says nearly 800 dogs have been discovered along Dowdy Ferry Road, an area of southeast Dallas that's an infamous dumping ground for dogs.

"We've seen quite a bit of animal cruelty throughout the years but this is one of the most horrific situation that we've seen as a crew," Boss said.

In an arrest affidavit, police said tips led them to Acosta's apartment in Mesquite where he was arrested for an unrelated felony warrant.

In an interview with officers, they say Acosta claimed he "only abandoned the puppies and did not know what happened" to them.
"The Dallas Police Department would like to thank the community for their tips that helped identify the suspect which led to his arrest," the department said in a news release. "This is a great example of the community and police working together to help solve and prevent crime."

Police said they believe Acosta killed the animals because he could no longer take care of them.

"He should've taken them to a shelter of the SPCA to surrender them," said Dallas Police Sgt. Daniel Cordero with the animal cruelty unity.

Friday evening, Acosta remained in the Dallas County jail.
Police said a third dog seen in the back of the pickup truck is alive and was seized for protective custody.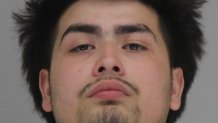 Crime Stoppers had offered a $5,000 reward for tips that led to the arrest and indictment in the case.