A serial rapist may be at work in Dallas after police say a sexual assault reported Tuesday may be related to two incidents reported last month.
Police said Tuesday's offense, which took place at a residence on the 6000 block of Pineland Drive at about 4 p.m., are similar to two offenses reported in September -- one on Sept. 12 on the 14200 block of Dallas Parkway and one on Sept. 19 on the 14100 block of Monfort Drive.
"We think that these three offenses could be related, so we're trying to get this message out, especially to those individuals within the areas that the offenses occurred," Deputy Chief Thomas Castro said. "If they see someone roaming around the area, don't hesitate to call the police."
In the Tuesday attack, police said a man knocked on a door soliciting and that when the door was opened he forced his way inside, showed a weapon and sexually assaulted the resident.
The woman described her attacker as a black male between 16 and 18 years old. She said he was about 5 feet 8 inches tall and weighed about 140 pounds. He had a box fade haircut, a mark on his wrist and was wearing all black -- black pants, black T-shirt with a red and white logo or numbers, a black jacket and black and red athletic shoes.
"For those men and woman that may be working as maintenance in those apartment complexes, just be on the look out," Castro said.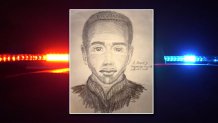 A sketch released last month was shared again by Dallas police on Wednesday.
Local
The latest news from around North Texas.
The attacks in the September cases were similar, police said, where a man matching the same general description knocked on the door requesting a donation. When the door was opened he then forced his way inside and sexually assaulted the resident.
Dallas police said they are hoping nearby surveillance cameras may help them obtain a photo of the woman's attacker.
Investigators Wednesday urged victims of sexual assault to report the incident to police and to go to the hospital before showering so that as much evidence as possible can be obtained for the investigation.
Police urged anyone with information about the suspect to call Detective Haker at 214-671-3610 or Detective Kramer at 214-671-3613.
Crime Stoppers is offering a reward of up to $5,000 for information that leads to an arrest.