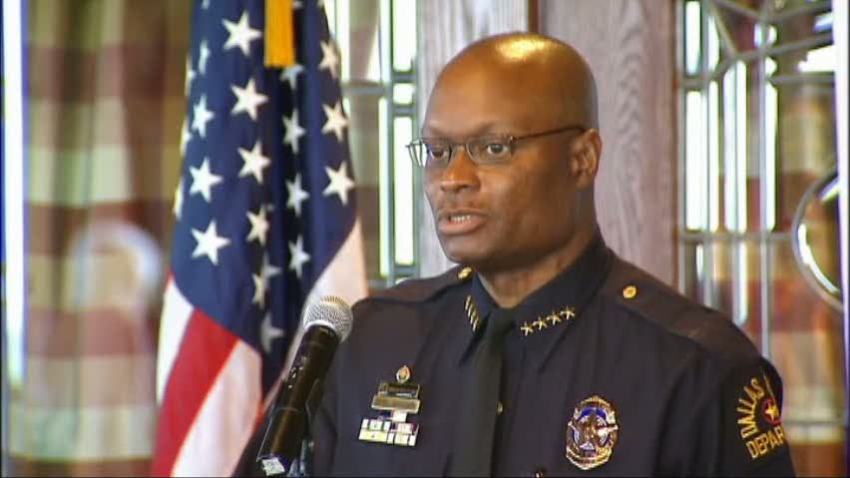 Dallas Police Chief David Brown made his first public appearance Wednesday since his son shot and killed two men, including a Lancaster police officer.
Brown's son, David Brown Jr., was also killed in the Father's Day shootout.
Brown was away from work for two weeks, mourning the death of his son. He spoke at a monthly breakfast meeting to the North Texas Crime Commission Wednesday morning.
Local
The latest news from around North Texas.
City Manager Mary Suhm was on hand to introduce Brown, saying, "I want to tell you that I have complete faith in his ability to deal with this and get through this and lead our city and our public safety efforts, as does the mayor and the council."
Brown began his 10-minute speech by addressing the tragedy.
"The tragedies in Lancaster, in the Lancaster community, has left three families, three police forces, two cities in a horrific state of shock," Brown said.
He said he met with both the Shaw and McMillan families to express his condolences and plans to stay in touch with them.
He said he knew when he was hired on as Dallas police chief that there would be difficult time ahead, but he never expected this.
"I don't believe anyone could have anticipated this type of tragedy committed by my son -- taking two lives and then having his own life taken in such a horrific incident," Brown said. "It hurts deep. It's a deep-rooted hurt."
Investigators said David Brown Jr. was under the influence of PCP and marijuana when he opened fire on 23-year-old Jeremy McMillan. Brown Jr. then shot and killed Lancaster police officer Craig Shaw, who had responded to the shooting.
Shaw fatally shot Brown Jr.
Brown also addressed the controversery surrounding his son's funeral.
Many officers expressed outrage over the decision made by two deputy chiefs to call motorcycle officers to escort Brown Jr.'s funeral procession -- an honor typically reserved for fallen officers or other dignitaries.
"Members of my command staff have come under scrutiny because of the decision made during the funeral procession for my son. Miss Suhm has an investigation from an outside group looking at that circumstance," Brown said. "I fully support that process to ensure objectivity in the outcome and to look at the facts, and we'll take the appropriate action once the investigation is complete."
Now there are questions about why another Dallas police officer was put on "special assignment" to help the chief's family after the shooting. Sgt. Tanga Hampton babysat for the Brown family on the day of Brown Jr.'s funeral.
"I don't begrudge Sgt. Hampton for wanting to help us out," Brown said. "We had a 4-year-old who didn't to go to the funeral home and on to the funeral, and all of my family was there, so there was no one to watch the 4-year-old. We're going to correct it."
Officers are sometimes assigned to assist the grieving family of a fellow officer, but City Manager Mary Suhm said it was not appropriate under this circumstance.
"I don't know for sure whether she was or she was not, but her time sheet will be changed to reflect either W-time (without pay) or if she wants to take vacation time, because it's just not appropriate to be spending time that way," said Suhm.
Meanwhile, Brown said he was happy to get back to work an emotional two weeks.
"Starting today, I'm leading the department," Brown said. "In the future I expect to do a lot of one-on-one conversation sessions with many members of the department, with the association leaders and with the rank and file."
Previous Coverage:
Article: Dallas Police Chief Back at Work After Son's Death
Article: Autopsy Finds PCP in Brown Jr.'s System
Article: 911 Tapes Released in Officer Shooting
Article: Lancaster Officer, Dallas Chief's Son Among Shooting Victims
Article: Few Questions Answered in Lancaster Triple Shooting
Article: Dallas Chief Brown Issues Email About Shooting
Article: Dallas Police Chief Gets Support from City Hall
Article: Slain Officer's Father: "Chief Brown Didn't Kill My Son"
Article: Prayer Vigil Held for Slain Officer
Article: Accused Cop Killer Receives Police Funeral Escort
Article: Father Shot on Father's Day Laid to Rest
Article: "God Wanted a Special Father's Day Gift" Chief Humphrey
Video: Dallas Police Chief's Son Named Suspect
Video: Lancaster Officer Killed in the Line of Duty
Video: Tragic Timeline
Video: Dashcam Hours Before Lancaster Triple Shooting
Video: Father of Fallen Officer Speaks
Video: Vigil Held for Officer Craig Shaw
Video: Accused Cop Killer Receives Police Funeral Escort
Video: Saying Goodbye to Jeremy McMillian
Video: Funeral for Officer Craig Shaw