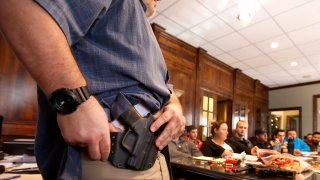 The Dallas Police Association is joining statewide police associations, police chiefs, and firearm safety experts to announce their collective opposition to the carry of firearms without a permit during a press conference at the Texas Capitol on Tuesday.
According to the Dallas Police Association, the press conference is in response to discussions in the halls of the legislature to dismantle the state's current License to Carry program and allow any Texan with no training in firearm safety to openly carry a pistol or rifle in public without a permit.
During the press conference, which will take place at 10 a.m. on the south steps of the State Capitol in Austin, instructors and police officers will provide personal accounts of the danger of allowing people with no training or understanding of basic gun safety rules to openly carry firearms in public, the Dallas Police Association said.
"Every police officer in Texas supports the right of our citizens to arm themselves for sport, hunting and protection," Dallas Police Association President Mike Mata said. "But as with any Constitutional right there comes great responsibility. For the safety of Texas residents, we want to make sure everyone who carries a firearm is well trained, follow basic gun safety measures and understand the importance of responsible gun usage."
The Texas GOP will also hold a press conference regarding constitutional carry on Tuesday at 3:30 p.m. in at at the Texas Gun Experience, located at 1901 South Main Street in Grapevine.
According to the Texas GOP, chairman Allen West will express his support for the current constitutional carry legislation in Austin.
These two press conferences come after the Senate State Affairs Committee heard and approved several pro-gun bills on Thursday. These bills including legislation to make Texas a "Second Amendment sanctuary" and expand the locations and ways in which firearms can be carried.
The following bills were approved by the committee on Thursday:
The bills will now go to the chamber for a potential vote to send the legislation to the House.
Local
The latest news from around North Texas.
The House Homeland Security and Public Safety Committee has also approved two constitutional carry bills, House Bill 1911 and House Bill 1927, that would allow most Texans to carry a handgun without a License to Carry.