What to Know
Dallas police motorcycle officer dies in crash while escorting the body of another officer to a funeral in Louisiana.
Sr. Cpl. Earl Jamie Givens was struck while blocking an entrance ramp on I-20.
Givens was a 32-year veteran of the Dallas Police Department.
A vigil is set for Monday night at the Dallas Police Central Substation to remember a Dallas police motorcycle officer who died after being hit by an oncoming vehicle while escorting the body of another officer to a funeral in Louisiana early Saturday morning, according to Dallas police.
According to Dallas Chief of Police U. Renee Hall, Sr. Corporal Earl Jamie Givens was part of the motorcycle escort for Officer Tyrone DaVince Andrews when he was struck by an SUV and killed.
The driver of that SUV is 25-year-old Adrian Breedlove, according to police. He was placed into jail and charged with Intoxicated Manslaughter and Unlawful Carrying of a Weapon. Authorities said he bonded out of the Dallas County Jail less than 24 hours later.
On Monday, Breedlove was back in court and back behind bars, not for anything he did since bonding out, but for what law enforcement didn't do. The Dallas County District Attorney's Office said Breedlove was supposed to have an ankle monitor, but he was released from custody before that happened.
In court Monday, the judge set no new bond until a phychiatric evaluation can be done and the D.A.'s request to increase bond to $100,000 can be reviewed. Tuesday the judge is expected to rule on the request.
Local
The latest news from around North Texas.
Officer Givens was part of Andrews' procession to Marion, Louisiana, where he was to be laid to rest Saturday afternoon.
Givens was stopped, blocking traffic along the eastbound entrance ramp to Interstate 20 at Bonnie View Road with his emergency lights activated, when he was struck by Breedlove's Kia Sportage at about 5:30 a.m.
Other motorcycle officers in the escort turned around and rendered aid to Givens until Dallas Fire-Rescue paramedics arrived. Givens was taken to Baylor Medical Center in Dallas where he was pronounced dead.
Fellow officers and colleagues gathered at Baylor University Medical Center in Dallas where paramedics rushed the officer for treatment. The body of the officer was taken from the hospital to the medical examiner just after 11 a.m. Saturday.
"We stand here today with our hearts broken," Chief Hall said in a news conference.
Givens was a 32-year veteran of the Dallas Police Department, serving in the motorcycle unit since 2012.
Fellow officers say Givens loved motorcycles, law enforcement and most importantly, his two sons.
The Assist the Officer Foundation is raising money to support his two sons.
Funeral arrangements for Givens are pending.
Since July 2016, six Dallas police officers have been killed in the line of duty, two in the past three months.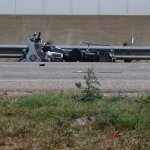 Check back and refresh this story for the latest update.