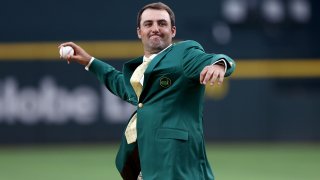 After Masters Champion and Dallas son Scottie Scheffler threw out the ceremonial first pitch at the Texas Rangers' home game Wednesday night, the Dallas Stars say he'll take part in a ceremonial puck drop before their regular-season finale Friday night.
Scheffler, 25, is a resident of the Dallas area and a graduate of Highland Park High School and the University of Texas at Austin. He earned his first major championship at the 86th Masters this month.
Wearing his signature Green Jacket, awarded to the annual Masters champ, he tossed out the first pitch before the rubber match against the Astros Wednesday night.
On Friday, Scheffler will take place in a ceremonial puck drop at the American Airlines Center in Dallas before the Stars' regular-season finale against the Anaheim Ducks. The puck drop will take place at about 7:30 p.m.