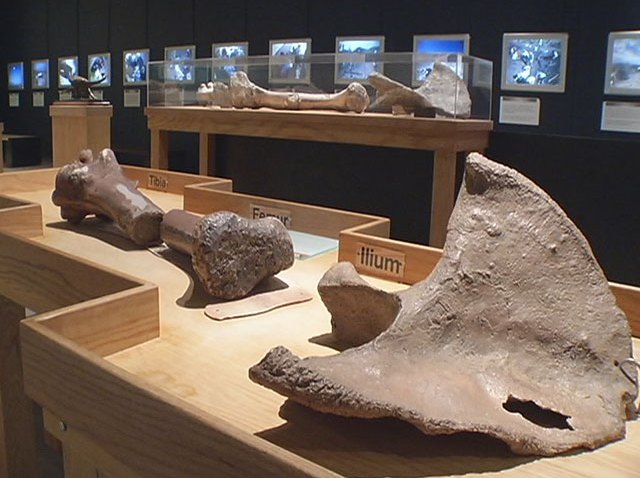 Never-before-seen dinosaur fossils will go on exhibit when the new Perot Museum of Nature & Science opens in downtown Dallas in 2013.
NBCDFW was granted access to an area not open to the public, where scientists and volunteers are cleaning up and preparing the fossils.
The Museum of Nature & Science, currently at Fair Park, has the first neck bones of an adult Alamosaurus ever discovered. The species was among the last dinosaurs to roam North America more than 65 million years ago before they became extinct, according to scientists.
Local
The latest news from around North Texas.
The name does not come from The Alamo in San Antonio. The Alamosaurus was named after the trading post in the geologic formation where it was found in northern New Mexico. The plant-eating sauropod is almost 23 feet tall, 74 feet long and 30 to 50 tons in weight.
Ron Tykoski, the museum's chief fossil preparator, and the rest of his team use mini-jackhammers called air scribes to remove the white rock that covers the dark grey bone.
Getting one bone museum-ready takes one person working eight-hour days for six to eight months -- plus a lot of concentration to not damage the bone. The museum has nine neck bones to prepare.
"You can spend all day and clear out an area only a few square inches in size," Tykoski said. "We want people to be able to see these things, be amazed by these things and, hopefully, be inspired by them."
Tykoski said he hopes to make more discoveries about the species as he prepares the fossils.
"I've had that experience a couple of times, and that really is a rush," he said. "'Oh my gosh, I'm the first person in the history of humankind to see that. How cool is that?'"
The adult Alamosaurus neck bones were discovered in 1997 by a UT Dallas student in Big Bend National Park. The bones were so heavy -- up to several hundred pounds each -- that a helicopter had to airlift them out of the park.