Thousands marched through downtown towards City Hall Sunday as part of the Dallas Mega March.
Most streets closed for the march have reopened as participants have gathered at city hall to hear from various speakers, including Martin Luther King III.
While Dallas police said an attendance estimate wouldn't be given until after the event had ended, the crowd appeared noticeably smaller than the last march in 2006.
Police said the march was peaceful, and there were no immediate reports of arrests or other incidents. A few counter-protesters were on hand for the march, and at least one held a flag supporting President Donald Trump.
Organizers of the Dallas Mega March held a news conference in Oak Cliff Friday to discuss plans for Sunday's march for immigration reform and racial equality.
The organizers of the march said they are, "calling for real immigration reform and an end to aggressive deportation efforts that have separated families, targeted DACA students and left our communities in fear. We are calling for an end to executive orders that have discriminated against our Muslim brothers and sisters based on their faith. We are calling for an end to hate crimes and hate speech that have increased since the election, and we want to join together and send a message that hate has no place in our nation."
Local
The latest news from around North Texas.
"The 2017 Dallas Mega March is centered on the themes of family, unity and empowerment. Participants are asked to carry American flags and wear red, white and blue in solidarity," organizers said.
A number of politicians, celebrities and activists are expected to speak at the event including Martin Luther King III, actors Danny Glover and Jamie Foxx, Texas Congressmen Marc Veasey, Beto O'Rourke and Joaquin Castro, and a host of others. A comprehensive list can be found here.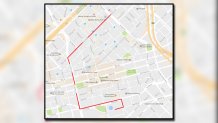 "We've been, for almost two months, planning with the Dallas Police Department to make sure that our security concerns are addressed. We want to make sure we have a peaceful, non-violent march that's positive," said organizer Domingo Garcia.

Garcia said Friday there will be approximately 1,000 officers from Dallas Police Department and Dallas County Sheriff's Office on hand. Garcia also said they have spoken with Immigration and Customs Enforcement officials and they have been assured ICE will not be at or near the march on Sunday.
Sunday's march started at the Cathedral Shrine of Our Lady of Guadalupe on Ross Avenue and Pearl Street and moved westbound to N. Griffin Street. It then proceeded southbound on Griffin Street to eastbound Young Street.
The march ended at City Hall Plaza, where a rally was held.