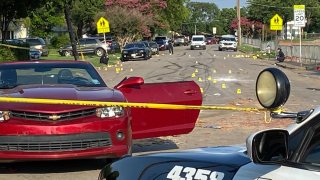 Dallas police have arrested a man in connection with the deadly shooting at a July 4 block party where five people were injured and three killed.
According to police, Akil Kearius Anderson is currently being held in the Dallas County Jail on a capital murder charge in connection with two of the three deaths.
Police identified Anderson as one of several people seen in a video firing at four men in a red Chevrolet Camaro. The driver of the car was driving through a block party in Hamilton Park, along the 8200 block of Towns Street, just after 11 p.m. with one of the men riding on top of the trunk area with the top down.
In an arrest warrant affidavit obtained by NBC 5, police said Anderson and several other men were seen on video "on both sides of Towns Street with rifles and handguns, crouching behind vehicles and appearing to be waiting to conduct an ambush on the red Chevrolet Camaro."
As the car passed by, someone fired a handgun in the direction of the car. "Seconds later," police said, "multiple suspects start firing multiple rounds from assault rifles and handguns toward the red Chevrolet Camaro."
Police said Anderson was seen on video shooting a rifle at the car and then placing that rifle in the back of a white Jeep Grand Cherokee before getting in the driver's seat and driving away. Detectives said Anderson is the owner of a 2013 white Jeep Grand Cherokee matching the vehicle in the video.
Five people were shot and taken to area hospitals, three of them died, police said. Two of the deceased, 19-year-old Hassan Blazer and 22-year-old Alvin Ray Murray II, were in the Camaro and died after being hospitalized. Two other men in the Camaro were injured in the shooting and are expected to recover. A fifth person in the car escaped injury.
Local
The latest news from around North Texas.
Also killed in the shootout was 17-year-old Mi'quaris Alexander. It's not yet known where he was when he was fatally shot.
Anderson is being held in the Dallas County Jail on $750,000 bond. It's not clear if he's obtained an attorney. If found guilty of capital murder, Anderson faces either life in prison without the possibility of parole or the death penalty.
Police have not said whether they have identified any other suspects in the shooting.