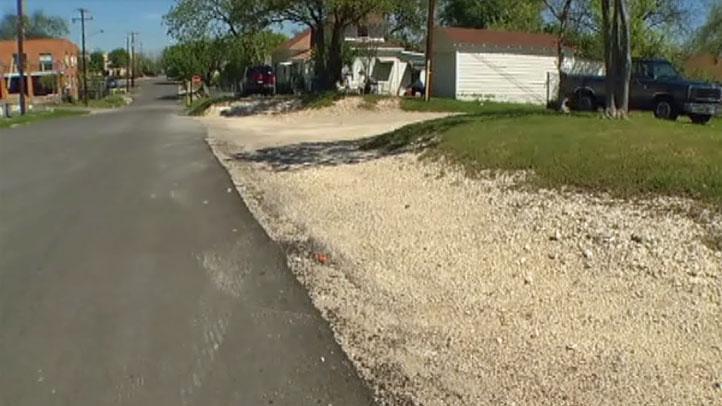 Dallas has a whopping $4.4 billion backlog of street and transportation needs according a briefing provided to a City Council Committee Monday.

The backlog includes more than 10,000 individual projects around the city.

High on the list of priorities is Madison Street between 7th and 9th Street in Oak Cliff.

This street near the up and coming Bishop Arts District has no sidewalks, no curbs and no storm drains.

Neighbors who try to walk along the street say gravel alleys and shoulders become a mess when it rains.

"It runs down the hill, and it takes a whole bunch of rock and gravel and all that you know, all over the street," said resident Delores Rico.

"We got to go around all this so we won't get muddy," said resident Dominga Esparza.

Tracy Popken opened a seamstress shop on Madison Street two years ago.

She says the condition of the street gives Bishop Arts visitors a bad impression.

"Because this road isn't as cared for, people leave the district and think, where am I?" Popken said.

Councilwoman Delia Jasso said Madison is a top priority for street repair in her city council district.

"Having lived there my whole life, I knew that it had to be No. 1 on the list," Jasso said.

But council members hearing the briefing Monday have other priorities in their neighborhoods including alleys torn up by years of garbage truck traffic.

The project list also includes major repairs to bridges like the old Houston Street Viaduct.

And council members have endorsed a switch to "complete streets" which would reconstruct arterial business roads with wider sidewalks and bike lanes.

"We don't have the means to correct all the needs that we have for streets and alleys, not right now," said Councilwoman Linda Koop.

The city is planning a public improvement bond referendum this fall of about $500 million.

Dallas City Manager Mary Suhm has recommended about $300 million go toward major flood control projects.

Streets and other needs would need to compete for the remaining $200 million.

"These are just the beginning talks and we'll see where it goes," Koop said.