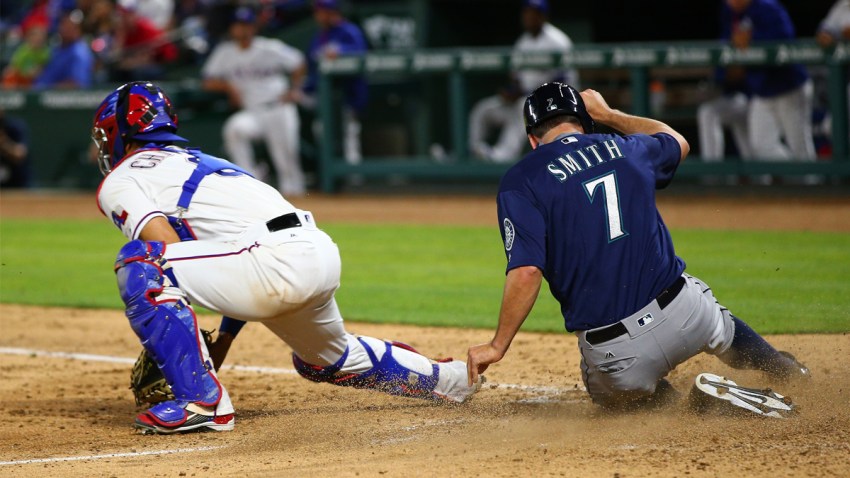 Jeff Banister wasn't nearly nose-to-nose with Scott Servais the way he was last season in a verbal sparring match with Houston manager A.J. Hinch.
The reigning AL manager of the year from Texas was just as heated, though.
Banister got into it with Servais while Seattle was pulling away in a 10-2 victory over the Rangers on Tuesday night, the first for the Mariners under their rookie manager.
Local
The latest news from around North Texas.
The pair exchanged words after former Seattle reliever Tom Wilhelmsen hit Chris Iannetta with a pitch. Wilhelmsen, who was ejected, had just given up the second of two homers along with two doubles without getting an out in a six-run Seattle eighth.
"Tom got ejected. Emotions got high," said Banister, whose run-in with Hinch helped sparked the Rangers' run to the AL West title last season. "That's about all I can say."
Nelson Cruz hit one of four Seattle homers and fellow former Texas player Leonys Martin had a tiebreaking double to help the Mariners bounce back after they lost on opening day despite holding the Rangers to just one hit.
Robinson Cano homered for the second straight game and on the first pitch as a Ranger from Wilhelmsen, who spent his first five big league seasons with the Mariners.
Cruz, who reached base four times and scored three runs, and Kyle Seager doubled. After Seth Smith homered — again on the first pitch — Wilhelmsen's next pitch hit Iannetta on the left thigh.
The Seattle catcher, who was with the Los Angeles Angels last season, yelled at the right-hander as he walked up the line. The managers emerged from the dugouts, eventually pointing at each other and shouting.
"I've said it since the day I got the job, it's OK to show emotion once in a while," said Servais, who spent six years in player development with the Rangers. "Obviously, there were some things that went back and forth tonight, but that's part of the game."
The umpires cleared the field without any major trouble, and Luis Sardinas, another former Texas player, hit his first major league homer off Andrew Faulkner to cap six straight Seattle batters reaching to start the inning.
"Looks like they had a pretty good idea what I had, and they went about it pretty good," Wilhelmsen said. "Ugly, embarrassed. Don't ever want to do that. But I'm not going to let these guys get too comfortable."
Nick Vincent (1-0) pitched a scoreless sixth inning.
Texas reliever Tony Barnette (0-1) lost in his major league debut at age 32 after six seasons in Japan. He was greeted in the seventh by a single from Smith, who scored from first on a two-out double by Martin.
Nori Aoki followed with an RBI single for his first hit with Seattle.
Mariners starter Hisashi Iwakuma couldn't hold a 2-0 lead while going for his seventh consecutive win against Texas. The Japanese right-hander allowed consecutive run-scoring singles to Elvis Andrus and Robinson Chirinos with two outs in the fourth.
Texas starter Martin Perez gave up two runs and two hits in six innings, including a line-drive homer from Cruz leading off the fourth.
30-Something Debuts
Barnette's debut came a night after South Korean-born Dae-Ho Lee made his first appearance in the majors as a Seattle pinch-hitter at age 33. Lee got his first start at first base Tuesday, grounding into a double play and flying out to center before coming out for Sardinas. Barnette gave up three hits and two runs in two-thirds of an inning. "Got it out of the way," the right-hander said.
Rangers-Brewers Trade
Texas sent lefty reliever Sam Freeman to Milwaukee for cash. The Rangers designated Freeman for assignment March 29 after deciding to keep two other lefties in their bullpen in Jake Diekman and Faulkner. Freeman was 0-0 with a 3.05 ERA in 54 appearances last season.
Trainer's Room
Rangers: RHP Yu Darvish (Tommy John surgery) threw a 50-pitch bullpen session. He is expected back in May after missing all of last season.
Up Next
Rangers: RHP Colby Lewis opens his 11th big league season and ninth with Texas coming off career bests of 17 wins and 204 2/3 innings. The 36-year-old Lewis lost an eight-inning complete game at Seattle, 4-2, last August.
Mariners: LHP Wade Miley makes his Seattle debut after coming over in an offseason trade with Boston. He is 1-2 with a 3.86 ERA in three career starts against Texas.
Copyright AP - Associated Press