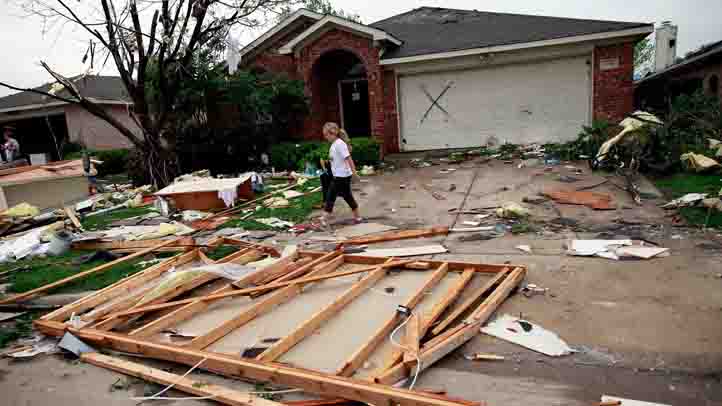 Some church volunteers and construction workers complain that strict rules controlling access to the worst-damaged neighborhoods in Arlington prevent them from helping tornado victims.
City leaders say the process of requiring daily permits to get past police roadblocks is necessary to keep out looters and shady contractors.
Contractors are required to go to a police station in South Arlington to apply for a permit to get into certain areas. A homeowner must verify the company has been hired, and the contractor must provide detailed identification information. Residents also must show proof of their address to get to their homes.
Local
The latest news from around North Texas.
Don Tate, of Tate Roofing in Mansfield, said his company wanted to help put free tarps on damaged roofs.
"You can't help people if they won't let you in the neighborhoods," he said.
Another contractor, Gerardo Gonzales, of Royalty Roofing in Fort Worth, waited at a police station for city officials to verify with a resident that his company had been hired.
"The problem is, the homeowner is not answering to verify we actually have work to do with them, so it's holding us up," Gonzales said. "All we want to do is get in, get out, and help the homeowners out."
Ken Leonard, a volunteer for Churches of Christ, said he had a truck with water and other supplies to donate to victims, but he was unable to get a city permit.
"They're locked up pretty tight right now," he said. "I'm sure things will loosen up soon and we want to be there ready to go in when they let faith-based organizations like us in."
City leaders defend the rules as necessary to keep out unscrupulous contractors and even looters.
"The process really is to make sure we have limited access to the secured areas," Arlington spokeswoman Rebecca Rodriguez said. "As you can see, there are so many houses that are vulnerable, and that means the homeowners are vulnerable too in so many ways."
She said some homeowners had complained about questionable characters going door to door to solicit business.
Nancy McNiel, whose home of 25 years was destroyed in seconds, said she had noticed several people hauling away metal debris which she believed they planned on selling to recyclers.
"How did they get in here?" she asked.
She praised the strict rules limiting access to her neighborhood.
"I think it's a good idea," she said. "We'd have a lot of fly-by-night people coming through."