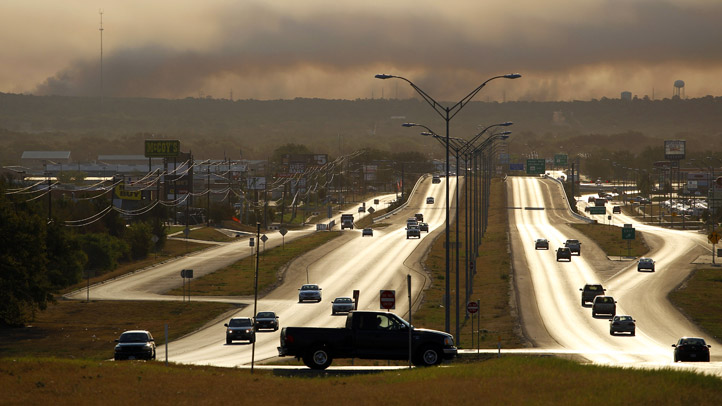 Firefighting crews started Wednesday to gain control of a wind-fueled blaze that has raged unchecked across parched Central Texas for days, leaving a trail of charred properties in its wake and causing thousands of people to flee.
At least two people have died in the wildfire, which has destroyed more than 600 homes and blackened about 45 square miles in and around Bastrop, a city near Austin.
Texas Task Force 1, an elite search team that was sent to New York following the Sept. 11 terrorist attacks and to New Orleans in the aftermath of Hurricane Katrina, will be assisting in Bastrop.
Local
The latest news from around North Texas.
The team has dogs that can help look for people trapped in debris, Chief Bob McKee told The Associated Press. "We also have human remains canines that would scent on deceased persons or animals," McKee said.
Crews finally got a reprieve Tuesday from winds pushed in by Tropical Storm Lee that whipped the blaze into an inferno over the weekend. Texas Forest Service spokeswoman April Saginor said the Bastrop fire was 30 percent contained early Wednesday, and that the lighter winds were assisting firefighters in their efforts.
"Even though the fuels are critically dry, the grass is dry and the relative humidity is still pretty low, they were able to take advantage of lower winds," Saginor said.
The blaze in Bastrop is the most catastrophic of the more than 180 fires that have erupted in the past week across Texas, marking one of the most devastating wildfire outbreaks in state history. The fires have destroyed more than 1,000 homes, caused four deaths and pulled the state's firefighting ranks to the limit.
In a housing development near Bastrop, Willie Clements' two-story colonial home was reduced to a heap of metal roofing and ash. A picket fence was melted. Some goats and turkeys survived, but about 20 chickens and ducks died in a coop that went up in flames.
"We lost everything," said Clements, who with his family took a picture of themselves in front of a windmill adorned with a charred red, white and blue sign that proclaimed, "United We Stand."
"This is the beginning of our new family album," the 51-year-old said.
Texas Gov. Rick Perry cut short a presidential campaign trip to South Carolina to deal with the crisis, and on Tuesday toured a blackened area near Bastrop.
"Pretty powerful visuals of individuals who lost everything," Perry said after the tour. "The magnitude of these losses are pretty stunning."
The conservative Republican said he expects federal assistance with the wildfires but complained that red tape was keeping available bulldozers and other heavy equipment at the Army's Fort Hood, about 75 miles from Bastrop. The post was fighting its own 3,700-acre blaze.
White House spokesman Jay Carney said the Obama administration has approved seven federal grants to help Texas with the latest wildfires.
About 1,200 firefighters battled the blazes, including crews from as far away as California and Oregon. Five heavy tanker planes, some from the federal government, and three aircraft capable of scooping 1,500 gallons of lake water at a time also helped.
The disaster is blamed largely on Texas' yearlong drought, one of the most severe dry spells the state has ever seen. The fire in Bastrop County is the most devastating wildfire in Texas in more than a decade, eclipsing a blaze that destroyed 168 homes in North Texas in April.
At least 11 other fires exceeded 1,000 acres Tuesday, including a 7,000-acre blaze that has destroyed at least 60 homes and threatened hundreds more about 40 miles northwest of Houston. An 8,000-acre fire has destroyed at least six homes in Caldwell County, next to Bastrop County. In far northeast Texas' Cass County, a 7,000-acre fire burned in heavy timberland.
About 40 people who fled their homes in a Bastrop neighborhood were staying at a community center in the town of Paige. A volunteer, Debbie Barrington, said some people have been sleeping outside on picnic tables under a pavilion, eating food and using toiletries donated by folks not hurt by the fires.
"The first night, we had a child 17 months old," she said. "We didn't have milk. The next morning, I think we had eight gallons. People heard what we needed and brought it in. The response has been unreal."
Michael Graczyk reported from Houston. Also contributing to this story were Associated Press reporters Jamie Stengle, Danny Robbins and Schuyler Dixon in Dallas, Betsy Blaney in Lubbock, Will Weissert in Austin, Paul Weber in San Antonio, and AP Photographer Eric Gay in Bastrop.
Copyright AP - Associated Press