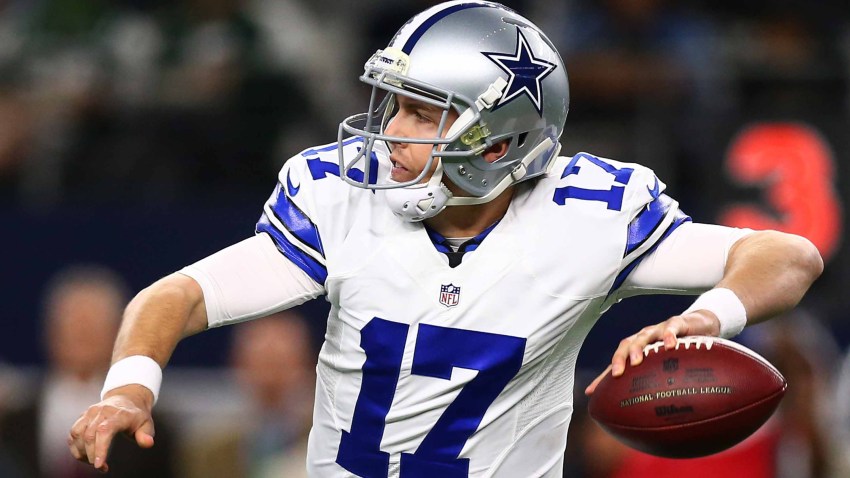 Rookie Cooper Rush, an undrafted free agent, moved past Kellen Moore on the depth chart last week and made his NFL debut.
Now, Moore is gone.
The Cowboys released Moore, who entered training camp each of the last two years as the Cowboys' backup, because they needed his roster spot.
Local
The latest news from around North Texas.
The Philadelphia Eagles wanted to sign tight end Blake Jarwin off the Cowboys' practice squad, and they didn't want to lose him., according to a club source.
The Cowboys promoted Rush after a nice week of practice during the bye week, and he played two series in the fourth quarter of the Cowboys' 40-10 blowout win over San Francisco.
He completed 1-of-2 passes for 2 yards.
Jarwin, an undrafted free agent, caught four passes for 31 yards in the preseason. With Jason Witten, James Hanna and Geoff Swaim, the Cowboys now have four tight ends on their roster.
Rico Gathers, a fifth tight end, remains on injured reserve. He suffered a concussion in the preseason.
Moore does not have to clear waivers and could be added to the Cowboys' practice squad.
The move, though, says more about Rush than it does about Moore.
Rush played well in the preseason, passing for 398 yards with six touchdowns and no interceptions.
Moore passed for 392 yards with a touchdown and an interception, but it was clear who better in the preseason. That's why the Cowboys initially released Moore on the final cutdown before re-signing him.
They didn't want to take a chance on another team claiming Rush.
"Well, we felt Cooper did a really good job in the preseason and training camp and was worthy of an opportunity," head coach Jason Garrett said Monday. "The discussions we had as a staff going into the season was that it was probably better to have him as the third quarterback at the outset, being that he's a rookie."
"Kellen is more experienced, so let's make Cooper the third and Kellen the second and give Kellen the role early on in the season, with the idea that over time we'd like to give Cooper the opportunity," Garrett said. "We got to the bye week, we gave him a little more work in our extra couple practice days, and we just felt like it was the right time for him to do it."
Offensive coordinator Scott Linehan said he wanted to make sure Rush was mentally ready to play and understood how to prepare on a daily and weekly basis.
"When you've got a young quarterback, regardless of what round he was drafted, you'd like to, if you have that chance, to have a progression of teaching," Linehan said. "It was good for him in the first five games to be able to see a pro's pro like Kellen prepare in that backup position and see how that really works, because it's really different."