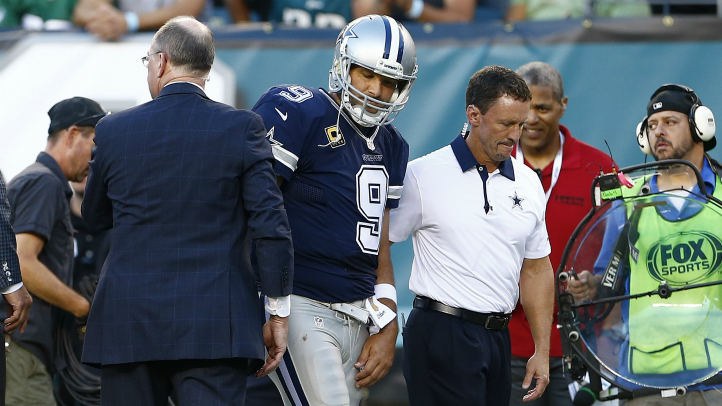 It was sloppy, and it cost them their starting quarterback for the foreseeable future, but the Dallas Cowboys are leaving Philadelphia with a 20-10 victory over the Eagles and a 2-0 record on the year.
Romo suffered a broken clavicle in the third quarter, which will keep him out for several weeks, but how many exactly is a point of some debate.
As for Sunday's tilt, the Cowboys appeared poised to jump to a 7-0 lead on their third drive of the day, but after Gavin Escobar was ruled down at the one-yard line on what would have been a 14-yard touchdown pass from Tony Romo, Dallas couldn't cash in. They settled instead for a 20-yard field goal from Dan Bailey to take a 3-0 lead.
Local
The latest news from around North Texas.
Bailey, who also knocked in a 28-yarder to extend the Dallas lead to 6-0 as the second quarter ran out, provided the only points for either side in the first half, on a day when the Cowboys were hampered by a franchise-record 18 penalties, mostly on offense, and the Eagles' offense struggled to piece anything together at all.
The score sat at 6-0 until the Cowboys' blocked an Eagles' punt attempt in the third quarter, and Kyle Wilber returned it for a touchdown.
Cody Parkey finally got the Eagles on the board just after the opening of the fourth quarter with a 46-yard field goal to pull within 10, at 13-3.
The Cowboys' final touchdown on the day, a 42-yard catch and run from Brandon Weeden to Terrance Williams, set up by J.J. Wilcox's interception of Sam Bradford, extended the Dallas lead to 20-3. It was Bradford's second pick of the day, the first coming earlier in the half, in the end zone to kill a Philly drive.
Weeden's touchdown pass gave Dallas a comfortable 20-3 lead, and the Eagles mustered a garbage time touchdown from Bradford to Jordan Matthews to salvage the better-looking final score of 20-10.
Bradford finished 23 of 37 passing for 224 yards, a touchdown and two picks. The former Cowboy DeMarco Murray finished with 2 yards on 13 carries.
Romo finished his day 18 of 27 passing for 195 yards, and no touchdowns or picks. Murray's replacements in Dallas, Joseph Randle and Darren McFadden, combined for 81 yards on 28 carries.
Now 2-0, Weeden and the Cowboys will host the Falcons at AT&T Stadium Sunday.
Copyright FREEL - NBC Local Media