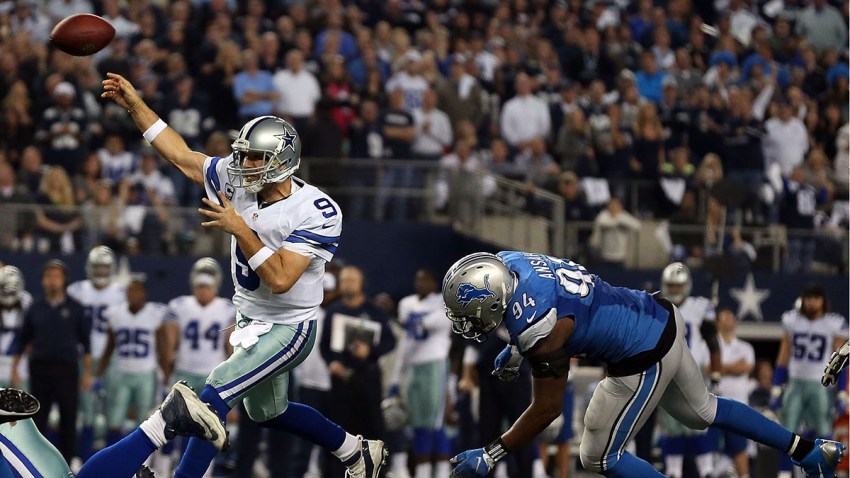 10. I've never been so excited to re-live the awful memories of the Ice Bowl. But since it will come in advance of Cowboys at Packers NFC Divisional Playoff Game Sunday at noon; bring it on. Also the first time in NFL history an 8-0 road team has played an 8-0 home team. Green Bay favored by 6.5 points.
9. In no particular order, Cowboys who are thrilled to be let off the hook by DeMarcus Lawrence's game-clinching sack: Jerry Jones. Jason Garrett. Tony Romo. Dez Bryant. Dan Bailey. Leon Lett. Someone named Dekoda Watson. And, oh yeah, especially DeMarcus Lawrence.
8. I know this sounds crazy, but I'm convinced Terrance Williams "intercepted" Romo's game-winning touchdown pass intended for Bryant. Romo was throwing that ball toward Dez in the back of the end zone and Williams – after abruptly changing directions in the middle of the end zone – undercut his teammate and caught it for the winning score. And, I swear, watch Dez's immediate reaction to the play and you'll see slump-shoulder-negative-body-language disappointment from him instead of arms-raised-jubilation. Not saying Dez wasn't happy, just saying he would've been happier had that pass made it to him.
Local
The latest news from around North Texas.
7. Despite having a DeMarco Murray touchdown wiped out by a holding penalty and Bailey pushing a field goal wide right, the Cowboys regrouped and rallied and outscored the Lions, 24-6, over the game's final 32 minutes. It was a wild, wacky ride filled with inexplicable twists and nerve-wrecking turns, but I think the best team won this game.
6. Tony Romo is now 2-0 in home playoff games. Sorry, haters, but time to amend that tombstone you've been merrily constructing for the last nine years.
5. Upon further review I'm glad Ndamukong Suh played for the Lions. Detroit fans have no excuses now. Well, except for the controversial picking up of a pass interference flag. But, come to think of it, isn't that decision reversal by the refs the same as Suh's suspension being flip-flopped?
4. Romo wasn't great, but he was gutsy. He failed to read several blitzes. He held onto the ball and took senseless sacks. He nose-dived a couple of passes. But in a game of big plays, his best might have been the perfect in-stride strike to Terrance Williams. Already trailing 14-0 and facing 3rd-and-12 at Dallas' 24, Romo faced the blitz and fearlessly hit Williams for a 76-yard touchdown that sparked any hope in a comeback. Who knows, a sack there and Dallas might have been blown out of AT&T Stadium.
3. Gigantic props to Cowboys' head coach Jason Garrett for having the balls – and brains – to go for it on 4th-and-6 from Detroit's 42 down 20-17 with 7:00 remaining. Why was it smart? Simple, because the Cowboys' offense is much better than its defense. I trust Romo to complete a 6-yard pass much more than I do the defense to stop the Lions on three consecutive plays. Romo hit trusted target Jason Witten with a 21-yard pass and the rest will live in Cowboys' lore forever. Conversely, Lions' coach Jim Caldwell likely regrets not going for it on 4th-and-1 from midfield on the previous possession. The Lions had 10 4th-down conversions during the season, 2nd-most in the NFL. And, after unsuccessfully trying to draw Dallas' offside, they shanked a 10-yard punt to fuel the Cowboys' comeback.
2. That pass interference always gets called, and that flag never gets picked up. No doubt to me that Cowboys' linebacker Anthony Hitchens should've been called for defensive holding and pass interference against Lions' tight end Brandon Pettigrew late in the game. But I'm also convinced Pettigrew should've been flagged for grabbing Hitchens' facemask during his route. And, yes, Bryant deserved an unsportsmanlike conduct penalty for running onto the field helmetless to argue the call. But since the flag was picked up, there was no penalty. So, in effect, the refs admitted the flag was thrown by mistake and, therefore, Bryant wasn't eligible to be penalized for arguing a call that was ultimately the wrong call. Right?
1. Despite his brilliant career that will land him in the Ring of Honor and possibly the Hall of Fame, DeMarcus Ware never had a sack-strip-fumble-recovery bigger than this one produced by DeMarcus Lawrence. The rookie turned a goat-turned-God trick by atoning for his own mistake. It's like Bill Buckner had the ball bound between his legs, but then hustled into right field and threw out the winning run at home plate.
A native Texan who was born in Duncanville and graduated from UT-Arlington, Richie Whitt has been a mainstay in the Metroplex media since 1986. He's held prominent roles on all media platforms including newspaper (Fort Worth Star-Telegram, Dallas Observer), radio (105.3 The Fan) and TV (co-host on TXA 21 and numerous guest appearances, including NBC 5). He currently lives in McKinney with his wife, Sybil, and two very spoiled dogs.
Copyright FREEL - NBC Local Media