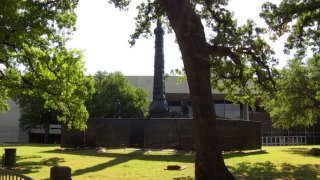 Late Friday night, a state of Texas appeals court cleared the way for the city of Dallas to remove a Confederate war memorial in Pioneer Park.
Earlier in the week, the city filed an emergency motion asking a judge to remove a temporary injunction, which would allow for the removal of the monument in downtown.
A timeline for the removal has not been released. On Saturday morning, a city spokeswoman said the city is working with the vendor to develop a plan for removal and nothing has been determined.
The memorial near City Hall has been at the center of court debates for years.
The Dallas City Council had voted in February 2019 to remove the monument, but an order from the 5th Court of Appeals in July halted the process.
The memorial, which was moved to its current location in Pioneer Park in the early 1960s, features a statue of a Confederate soldier surrounded by four Confederate leaders — Robert E. Lee, Stonewall Jackson, Albert Sidney Johnston and Jefferson Davies, according to The Dallas Morning News.
In the city's request for an emergency motion, which was granted Friday night, , the city cited other Confederate monuments that have been vandalized and destroyed around the country.
Local
The latest news from around North Texas.
In an effort to preserve the 122-year-old Frank Teitch sculpture, the city asked to remove the monument so it could be stored and used for historical purposes.
The city also stated that the 65-foot obelisk at the center of the monument could seriously injure anyone standing nearby if it were to be toppled.
With the approval to remove the monument late Friday, it's unclear when contractors will be brought in to start that process. The statues have been wrapped in black bags and the monument is fenced off.
Dallas City Christopher Caso stated in the document that a contractor had been secured for the removal and that the monument can be removed and stored without damage. If any damage were to happen, it could be repaired.
In 2017, the city convened a task force to make recommendations on the future of Confederate monuments and symbols in Dallas, including the war memorial and a statue of Robert E. Lee flanked by a Confederate soldier that stood in what was then known as Lee Park. In September 2017, shortly after the council's vote to do so, the statue was removed and the park renamed.
In Tarrant County, commissioners voted Tuesday to remove a marker dedicated to Confederate war soldiers and their descendants that sits in front of the historic courthouse in downtown Fort Worth.