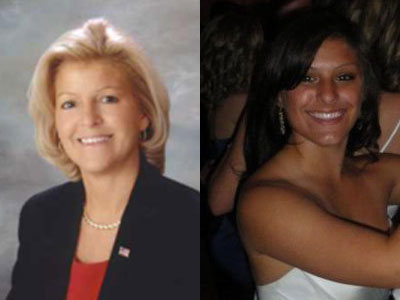 The mayor of an upscale suburb of Dallas and her teenage daughter were found shot to death at their home Tuesday in an apparent murder-suicide, police said Wednesday.
Police discovered the bodies of Coppell Mayor Jayne Peters, 55, and Corrine Peters, 19, at about 7:45 p.m. Tuesday, city spokeswoman Sharon Logan said.
The medical examiner has ruled that Jayne Peters died of a self-inflicted gunshot wound. The death of her daughter was ruled a homicide. Police said the medical examiner ruled that the case should be officially classified as a homicide-suicide investigation.
Local
The latest news from around North Texas.
"Forensic tests (and) procedures performed point to Corinne being the victim in this tragedy, with Mayor Peters subsequently taking her own life," police said in a statement. "Both of the fatal injuries are a result of a single gunshot wounds."
Coppell Deputy Police Chief Steve Thomas said the weapon was a semiautomatic handgun and there were no signs of a struggle.
Thomas said an envelope taped to the front door contained a typed note and a key to the house. The note warned police that they were going to find something unpleasant inside.
"I think the fact that there are notes present shows it was not a spontaneous event," Thomas said. "There was some type of planning."
Three other notes left instructions on how to manage affairs, such as taking care of the family dogs.
"I don't think any of the notes in and of themselves lend a whole bunch of information about what transpired directly before the tragedy," Thomas said.
Police said one of the four notes was handwritten. They declined to say what was in all of the notes.
"Why yesterday was the day or why the genesis of the event itself -- we're going to try and figure that out the best we can," Thomas said.
Police officers went to Peters' home Tuesday after the usually prompt mayor failed to arrive at a City council meeting and did not call to explain her absence, Logan said.
Bob Mahalik, mayor pro tem who is now acting mayor of the city, said council members were shocked when they learned of the deaths.
"Everybody in the room is like, 'Did we miss a sign?"' Mahalik said. "It's hard to wrap your arms around it."
Mahalik said he had a gut feeling something wasn't right when the mayor didn't turn up for the meeting.
"But nowhere in your wildest dreams did you think it would be that far not right," he said.
A small collection of flowers, wreaths and cards decorated the front porch of the Peters' home. A printed letter said: "Please know that you are loved no matter what happens. I know that God is with you and giving you comfort. You both are with Don, a wonderful husband and father. A family again."
The mayor's husband, Donald Peters, died in 2008 at the age of 58.
Jayne Peters was a contract software developer who had served as mayor of Coppell, a city of about 40,000 located 15 miles northwest of Dallas, for the past year. Her term was to expire in 2012. She had been a council member since 1998.
"This is a tremendous loss for the city, the community and the region," said City Manager Clay Phillips.
The elder Peters attended Miami University in Ohio. On her official biography on the city's website, she said "Coppell is a community with a huge heart, and we take care of one another."
"She enjoyed what she was doing as mayor and she was good at what she did," said Mahalik, who last saw Peters waving and passing out candy at the city's Independence Day parade. "She attended almost everything, every ribbon-cutting, speaking at the schools, the chamber, regional meetings."
Todd Storch, of Coppell, had known Peters for about a year. When his 13-year-old daughter died in a skiing accident in March, Peters was there for him and his family and later took a spot on the foundation he formed in his daughter's name to increase awareness for organ donation.
"She was just one of those rocks that was always there. We kind of grieved together," Storch said.
Corinne Peters graduated from Coppell High School this year. A classmate said she was bound for the University of Texas at Austin, and neighbors said the mother and daughter seemed happy.
Her Facebook page shows a smiling girl in a white top and details her interests in movies and television comedies.
"Corinne was an outstanding student and gifted dancer with a big heart," said Jessica Doty, a spokeswoman for the Coppell school district. Doty called Jayne Peters a "dedicated school volunteer."
A close friend, Ashley Johnson, said Corinne loved animals and was a phenomenal ballet dancer. There were no signs of serious strain between Corinne and her mother, Johnson said.
"Her and her mom fought sometimes, but it was like a normal teenager and mom relationship," Johnson said. "I never would have thought this would have happened."
Neighbor Diane Ianni said Corinne was excited about enrolling at Texas and frequently donned shirts with the university's logo and colors. She has known the family for 15 years, and Corinne had babysat her daughters for the past three years.
"She was just always happy and carefree," Ianni said. "She was a happy, perfect senior."
She told the Associated Press that when she last saw Corinne, the teen was upset about having to miss at least two different summer orientation sessions at the Austin campus. The last time because her mom was having problems with her eye and had to go to a doctor's appointment, but she said Corinne recovered and had been back to her happy self.
"I don't understand suicide, don't understand murder," Ianni said. "Corinne was amazing. Her mom was amazing."
"Whatever happened, I don't understand," Ianni said.
NBC DFW's Ellen Goldberg and Associated Press reporters Jeff Carlton and Jamie Stengle contributed to this report.
Copyright AP - Associated Press