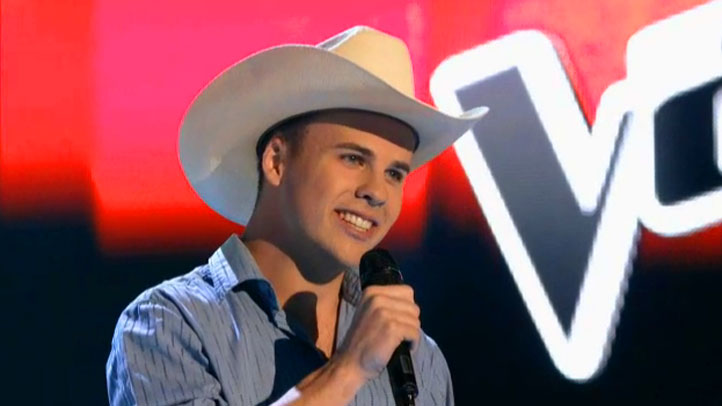 The country singer who was asked by Christina Aguilera on "The Voice" to take off his pants is a college student from Colleyville who said the remark made him blush.
Patrick Thomas, 20, a graduate of Colleyville Heritage High School, was selected to perform on the hit NBC show, which airs Tuesday nights.
His deep, baritone voice is winning praise.
Local
The latest news from around North Texas.
"I'm just so excited to be in the top 32 right now," he said. "If I make it to the next stage, that will be fantastic."
The show is similar to "American Idol" in that performers compete for the top spot over a period of weeks, but it is also unique in several ways.
Hopefuls such as Thomas aren't called contestants.
They're artists. There are also no judges -- but coaches who help the artists through the competition. They sit with their backs to the singers, listening just to their voice and turn around if they like what they hear.
They include big names in the business such as Aguilera.
Aguilera didn't swivel around for Thomas at first but clearly liked what she saw.
"You're cute, can you take off your hat?" she asked Thomas.
He obliged, and then she asked another question.
"Can you take your pants off?"
She quickly added she was just kidding.
"I was shocked," Thomas said of her remark. "I'm not a big blusher, but I think I blushed on national television! She's Christina Aguilera! That was cool!"
(See his blind audition and the feedback from the judges -- including Aguilera's request -- below.)
Because Thomas prefers singing country music, he chose Blake Shelton to be his coach.
Thomas' appearance on "The Voice" is his first on a national stage, but he has wowed audiences for a long time. He was 16 when he got a job as a performer at Six Flags Over Texas.
"I was a little awkward when I first came here," Thomas said in a recent interview at the amusement park.
When Thomas recently visited Six Flags, his old friends were there to greet him.
"These are the people who helped me so much to become the artist I am now," he said. "I mean, they taught me to dance. They gave me musical lessons."
Six Flags choreographer Marianne Green said when she met Thomas, his voice sounded great -- but his dancing needed some work.
She said he improved by practicing constantly, and his persistence paid off with his selection to be on the network show.
"I feel like a proud parent, you know?" Green said. "It makes me proud."
"There's no doubt Patrick was going to make it big one day," added Kali Livingston, who performed with him and still works at the amusement park.
Thomas would hardly be the first Six Flags performer to make it big. Kelly Clarkson started there, too.
Six Flags Entertainment Manager Bruce Mather worked with both Clarkson and Thomas.
"Every four or five years, somebody comes along that you go, 'That person has an incredible voice. They've got the incredible look. They've got the entire package. They have the opportunity to make it and go on bigger and better things,'" Mather said. "And Patrick is one of those people."
His former colleagues share the same desire to make it big.
Vincent Causey, 22, performs part-time at Six Flags while working as a waiter to make ends meet.
"I don't think anyone who takes performing seriously would say they don't have a dream to do really well and to do good on a large scale," he said.
Thomas' golden voice helped him receive a scholarship to Vanderbilt University, but he has put most of his classwork on hold until the TV show is over.
"This has always been the one thing that I wanted to do, and I'm going to keep chasing it," he said. "I still have goals much higher than where I am right now."