Dallas County Judge Clay Jenkins ordered an 8:30 p.m. curfew for all Dallas County properties starting Tuesday night. He invited demonstrators to use the Frank Crowley Courthouse steps as a protected site for George Floyd demonstrations, until this 8:30 p.m. deadline.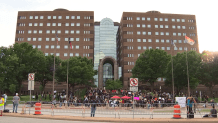 "There wouldn't really be an opportunity for intruders to infiltrate their peaceful protest, and we want to give them a chance to get back to their cars by dark," Jenkins said.
Demonstrators chose the location for a portion of their protest Monday night. It's just outside the Riverfront Boulevard boundary that was in effect for the City of Dallas 7 p.m. curfew on Monday. The city expanded the boundary to include the Frank Crowley Courthouse Tuesday. However, Jenkins said people will in fact be allowed on the courthouse steps until 8:30 p.m.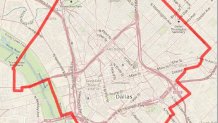 Dallas County Commissioner John Wiley Price said the 8:30 p.m. county curfew sends a confusing, mixed message to constituents. Price said Dallas County should have matched the city's 7 p.m. curfew.
Price was a civil rights activist for many years. But now he is the longest-serving Dallas County Commissioner and also watchful of taxpayers' money. He said an extra hour and a half would cost Dallas County extra money for security on county property.
Local
The latest news from around North Texas.
"You can protest all day, and as a person who is a veteran of protests, you've got all day to protest," Price said. "I support protest. I think the protest needs to have a purpose. It needs to have an end. I do not support destruction and anarchy."
There has been destruction connected with some recent protests.
There was talk of arresting hundreds of demonstrators who marched onto the Margaret Hunt Hill Bridge Monday night. In the end, all but one of the demonstrators were released. Others received citations.
Dallas County Sheriff Marian Brown has asked police not to bring low-level offenders to the jail, where 86 inmates and 47 employees have tested positive for COVID-19.
Price said county officials and police jointly agreed not to put so many people in jail Monday night.
"I'm sure they could have made some adjustments. It would have been a challenge," Price said.
A statement from Sheriff Brown Tuesday said the jail has added staff and prepared space in case of mass arrests.
"We are partners in this and are prepared to accommodate should the need arise," the statement said.
The county curfew order is in effect for seven days and can be changed or extended by County Commissioners next week.