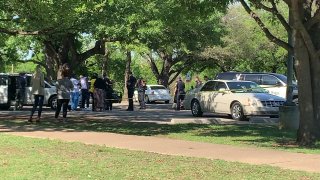 A 3-year-old girl was killed Sunday in what appeared to be an accidental shooting, officials say.
Officers responded about 3 p.m. to Oakland Lake Park in the 1700 block of Lake Shore Drive, where a girl had been shot, Fort Worth police say.
The child, identified Monday by the Tarrant County Medical Examiner's Office as Lauryn Koleen Barrett, was taken in critical condition to Cook Children's Medical Center.
The shooting appeared to be accidental, according to MedStar.
Police said no criminal charges had been filed as of Sunday night. No additional details were provided about the shooting.