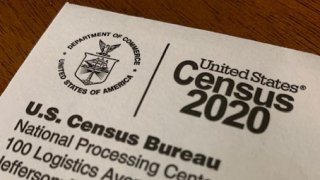 The U.S. Census Bureau Dallas Region teamed up with Bachman Lake Together Family Center to increase self-response to the 2020 Census in the Bachman Lake area, one of the lowest Census response area in North Texas.
The drive-thru event was held Thursday afternoon.
Residents attending the food drive received Census information to increase the self-response rates. Representatives even showed residents how easy it is to complete the form in their vehicle.
The Bachman Lake area currently holds the lowest self-response rate for the Metroplex at 19.9%, according to the U.S. Census Bureau.
Editor's Note: A previous version of this story implied residents would receive food in exchange for filling out the Census, that was never the case. NBC 5 regrets the error and corrections have been made to this article to reflect the true nature of the event.