Fort Worth police are asking for the public's help identifying a suspect who they say is responsible for cars that were vandalized in Fort Worth on Monday.
According to police, two vehicles had their windows smashed and purses were stolen outside of the Children's Lighthouse daycare center and the YMCA on October 22.
The stolen credit cards were then used to purchase gift cards at three Kroger grocery stores.
Security camera footage shows a black male suspect using the stolen credit cards and was possibly driving a silver Mazda CX5 which police say could be a rental car.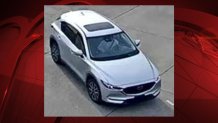 If anyone has information regarding the identity of this suspect, you are asked to contact Fort Worth Police at 817-392-3183.