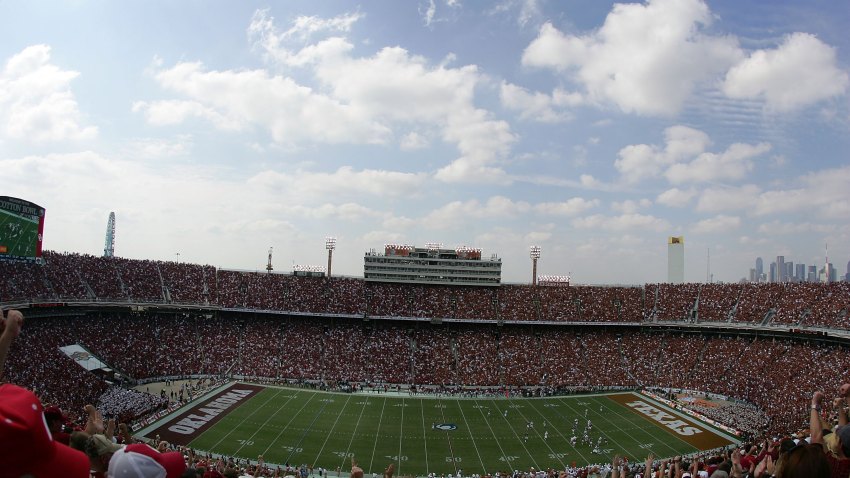 The Red River Rivalry weekend kicked off Friday evening. Fans began pouring into Fair Park, where vendors are hoping for a big boost in profits.
City officials expect more than 92,000 fans to fill the Cotton Bowl Saturday, and both fans and local businesses were more than happy for the rivalry to begin. One of the biggest economic impacts will be felt in the West End.
The West End has become a pretty quiet stretch of downtown, but by mid-afternoon Friday, patios at restaurants there were starting to fill with crimson and burnt orange.
Local
The latest news from around North Texas.
People who work in the West End say they don't mind the rivalry at all.
Ron Burnett, a waiter at R.J. Mexican Cuisine said "Oh it's crazy we're just glad to have the fans down from Oklahoma and Texas."
For workers this is the best weekend of the year. Ron expects to work 36 hours over the next few days.
The rivalry helps local lodging too. Tyran Jackson is a manager at Aloft Hotel, he's seen the impact. "It's obviously pretty good for the city cause most of the hotels down here are sold out." Jackson said.
While businesses are happy about the influx of cash, some fans said they'll be partying on a budget.
"I'm not shopping, I've already done mine. Walmart is good enough, but my wife, I have to budget for her." said J.D. Howerton, a Sooner fan from Moore, Oklahoma.
But some fans won't let a slow economy slow down their weekend.
"Yes we have to plan for the hotel and pay for it, but it's not that much more expensive than staying in Austin for us." said Jayla Fuller, a Longhorn fan from Austin. "We're still going to go out, we're still going to do the party thing all weekend."

A study from 2007 shows Texas-OU visitors sink more than 30-million dollars into our economy each year. Car rental companies said they're seeing about the same amount of sales as last year. The State Fair of Texas reports their goal this weekend is $2.8 million in food and ride coupon sales.