KrebsonSecurity released data showing that cash registers at more than 1,000 hotel properties were compromised with malicious software designed to siphon debit and credit card data.
InterContinental Hotels Group acknowledged a breach in February, but said it appeared to involve only a dozen properties.
IHG said payment data from cards used at front desks was stolen by hackers who installed malware onto the payment systems between September and December of 2016. But the problem was not caught or investigated until February and March of this year.
The group said the crooks got a hold of names on cards, card numbers, expiration dates and verification codes from card magnetic strips.
IHG operates more than 5,000 hotels in nearly 100 countries, including Holiday Inn, Holiday Inn Express, InterContinental, Kimpton Hotels and Crowne Plaza. Locations in Texas include Addison, Fort Worth, Frisco, Dallas, Royce City, The Colony and Weatherford.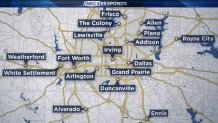 If you have visited a hotel within the intercontinental hotels group, here are Samantha Chatman's solutions:
Check your bank statement for suspicious activity.
If you spot a transaction that you don't recognize, call your bank.
As a precaution, it may not hurt to get a new card altogether.