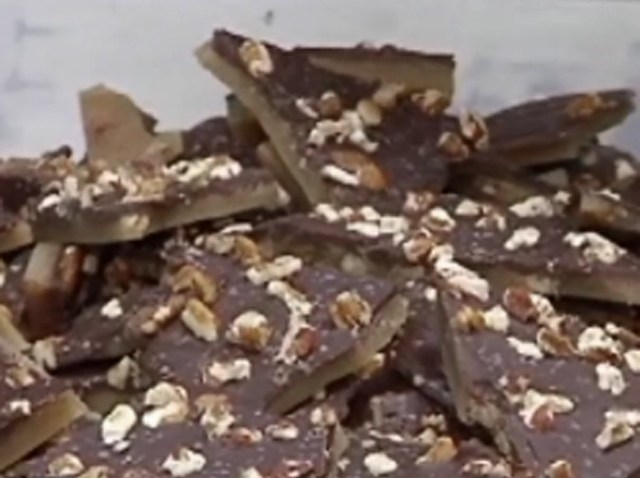 After a devastating brain tumor diagnosis, a Plano woman is pursuing sweet dreams.
The commercial kitchen in Plano is a far cry from the corporate office where M.L. Dubay spent most of her career. But she said she evaluated her life and what she wanted to do with the rest of it after her brain tumor diagnosis in 2000.
"I really did enjoy the almost 20 years I spent in corporate, but there was just something gnawing at me saying, 'It's time for you to go do something different,'" said Dubay, founder of Toffee Treats.
Local
The latest news from around North Texas.
A little more than a year ago, she left a comfortable job to volunteer with the Legacy Brain Foundation. She also started a company called Toffee Treats at the encouragement of people who had tasted her recipe which was handed down from her grandmother.
"I would make this for all of my friends in the corporate world for Christmas, and they would say, 'You ought to start selling this,'" Dubay said.
She said the cooking temperature and toffee thickness make her treats stand out from the rest.
"When I offer people, 'Would you like to try my toffee?' they're like, 'Oh no, I don't like toffee. It sticks to my teeth,'" Dubay said.
But her toffee doesn't.
The treats proved so popular around town, a gourmet ice cream maker developed a flavor using little crumbles of it.
"They say, 'This is the best toffee I've ever tasted.' No kidding," said Henry Gentry, of Henry's Homemade Ice Cream.
Now, foodies everywhere can taste it at Central Market where Dubay was just signed as a vendor.
"I've got so many people supporting me and encouraging me saying, 'You can do it,' and that means the world to me," said Dubay
A portion of every bag of toffee sold benefits the Legacy Brain Foundation.