A North Texas mom has a warning after a bold burglar stole her purse from her vehicle with her 5-year-old daughter still inside.

It happened at a Costco in Dallas on Central Expressway and Churchill Way.
Kelly Xu said she strapped her daughter, Frankie, into their SUV, placed her purse in the front seat, then returned a shopping cart.
Within seconds, she said a burglar opened the front door and grabbed the purse.
"It's a mom's worst nightmare.," Xu said.
"Immediately when I got in the car, Frankie said, 'A stranger opened the door and took something out of the car.' And it sounds crazy, but I immediately was like, 'No they didn't. You're so silly.'" Xu said.
Moments later, Plano police detectives approached Xu and said they saw it happen.
The suspect, 26-year-old Terren Flowers, was under surveillance for similar crimes in Plano and Frisco.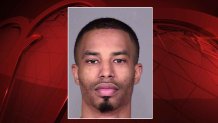 Flowers is now in jail, and no one was hurt.
Local
The latest news from around North Texas.
Xu said she expressed her gratitude for the police and their quick response.
"Because people get their purse stolen all the time, and for them to be watching in this particular moment, at this exact time, where my child is in the car, that is nuts, right?" Xu said. "I was like, 'You guys are guardian angels from the Lord. That is for sure what that felt like to me."