What to Know
Authorities pulled the body of Alfonso Hernandez, 28, from White Rock Lake Sunday morning.
Hernandez's car was found abandoned at the lake Feb. 5, when he and his girlfriend, Weltzin Garcia, were reported missing.
The couple's two children were reunited with family Sunday, a CPS spokesperson says.
Grand Prairie police confirmed the body found in White Rock Lake Sunday morning has been identified as a man who has been missing and whose car was found abandoned at the lake earlier this month.
The body was identified as 28-year-old Alfonso Hernandez, who went missing from Grand Prairie, along with his girlfriend, 26-year-old Weltzin Garcia. She has yet to be found.
Grand Prairie Police said a planned search was just getting underway Sunday morning when Dallas Fire-Rescue crews were notified of a body in the water near the spillway. A passerby made the report around 9 a.m.
A Dallas Fire-Rescue boat crew recovered the man's body. During the recovery effort, the rescue boat capsized and four DFR crew members fell into the chilly lake, fire officials said. The crew were evaluated and were expected to be OK.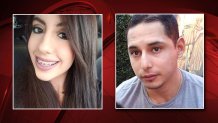 Hernandez, Grand Prairie police said, was wanted for allegedly assaulting Garcia in January; the couple was reported missing Feb. 5. Hours later, Hernandez's abandoned car was found parked at White Rock Lake.
The lake and surrounding area have been searched more than once since Feb. 5, but no new leads had been disclosed by investigators.
Hernandez and Garcia have two children, ages 3 and 6, who had been in foster care since their disappearance. Sunday night, the children were reunited with family, after Garcia's twin sister, Atziry Garcia Mireles, fought for custody of the children.
After Hernandez's body was recovered, a message was posted to the Facebook group "Help Us Find Weltzin" that was apparently written by Mireles.
Local
The latest news from around North Texas.
"Alfonso loved my sister and kids so much! I know he's in a better place now," the post said. "The Hernandez family are so heart broken right now, words cannot describe the pain we're all going through. Please have the Hernandez in your prayers today. We still need to find my sister."
Grand Prairie police joined Dallas officers in the investigation at the lake on Sunday morning. Hernandez's body was taken to the Dallas County Medical Examiner's Office to determine his cause of death.
A search of the water did not resume after the recovery Sunday, but Grand Prairie police said several agencies, including dive team members, would continue to search the White Rock Lake area for Weltzin Garcia and any additional evidence.
Police are still asking for the public's help in finding Garcia. Anyone with information is asked to call 911.
Check back for updates at this breaking news story develops.