What to Know
Statewide Blue Alert was issued for the driver who shot a Clay County sheriff's deputy Monday night near Wichita Falls.
Deputy was shot in his bulletproof vest; released from the hospital.
Gunman's white Cadillac was found early Tuesday; gunman still at-large.
A statewide Blue Alert, issued after a Clay County sheriff's deputy was shot during an attempted traffic stop Monday night southeast of Wichita Falls, has been discontinued.
Clay County Sheriff Jeffrey Lyde said on Facebook Monday night that the deputy was shot in the chest during an attempted traffic stop at the Jolly Truck Stop. KFDX-TV in Wichita Falls identified the deputy as Breanton Chitwood.
Chitwood was hit in his bulletproof vest and is expected to be OK. KFDX-TV reported early Tuesday that Chitwood has been released from the hospital.
Lyde said Chitwood was able to return fire multiple times but it's not clear if he hit the shooter.
What is a Blue Alert?
The gunman, who drove away in a white Cadillac four-door sedan that is believed to have a stolen Texas plate (FXJ 1334), is at large and is considered armed and dangerous.
Early Tuesday, police in Wichita Falls found the Cadillac abandoned in a parking lot, KFDX reported. Police told the news outlet that no one was inside of the vehicle when it was found.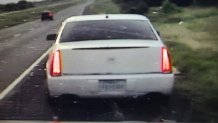 Lyde said multiple agencies arrived after the shooting to try to prevent the gunman from escaping the area but that he managed to slip away.
Local
The latest news from around North Texas.
"We threw a net around this place and unfortunately didn't get him. I'm hoping that he's leaking somewhere," Lyde said.
Lyde said the deputy described the gunman as a "white male, mid-20s, kinda thin, didn't get a real good look because as soon as he got to the door frame he got shot in the chest."
Lyde said the vehicle should be easy to spot because the back glass should be blown out that "it should have holes all in the trunk."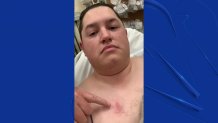 "To the guy who did this today, you didn't get my guy. You shot him in the vest. You didn't get him. But we are going to get you. Bet that," Lyde said on Facebook. "Deputy Chitwood is going to be absolutely OK."
In a separate video posted to Facebook Monday night, Lyde was in the hospital room with the deputy and showed a bruise on his chest where the bulletproof vest protected him from the round.
Wichita Falls Crime Stoppers is offering a $5,000 reward for information leading to an arrest. Lyde said his department was matching the $5,000 reward. If you have information, you can call Crime Stoppers at (940) 322-9888.
Editor's note: This story has been updated to correct the spelling of the wounded deputy's name.