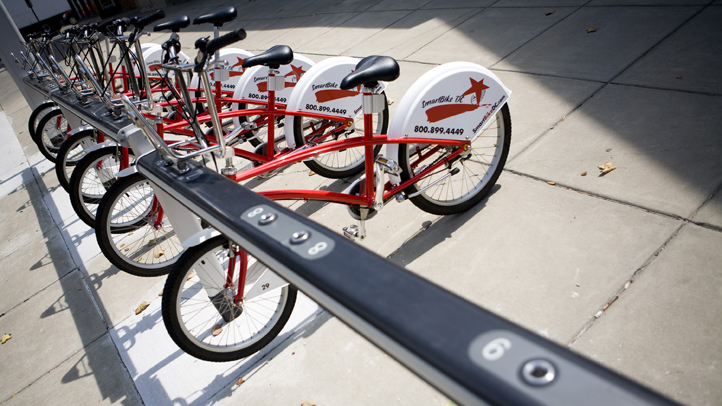 The Fort Worth Transportation Authority is getting closer to adding a new form of public transportation to its services.
Bike-sharing, a concept that is successful in other cities, could soon be headed to downtown Fort Worth.
It works similar to a rental car but isn't exactly the same. A person riding the bus with a bike-sharing membership and take a bike from a kiosk to ride the last few blocks to work, school or stores. The customer can then park the bike at another kiosk in the area and have the option to pick another one up later.
Local
The latest news from around North Texas.
Transportation officials say it would be beneficial at the downtown Intermodal Transportation Center, where a lot of riders head into downtown for several more blocks. Instead of walking, a customer could simply ride to wherever they need to go.
"It would enhance transit, it would enhance life downtown, and people are really excited about it," said Tony Johnson, executive vice president of The T. "We've just got to find some money to get the program in place and find some partners to help us operate it, and we're off and running."
The T, which approved the idea as part of its 2010 Strategic Plan, is looking for grants, funds and partners to make the idea a reality.
Officials say once funding is secured, a system could be up and running within six to 12 months.
The cost of a system is a little more than the cost of a single city bus. Operational costs in successful bike-sharing programs are usually covered by memberships and advertising.
This week officials from B-Cycle, based in Madison, Wisc., brought their station to Fort Worth City Hall to show off their system, which is in 11 U.S. cities. The T said it has looked at two or three other systems as well.
The city of Fort Worth is looking at partnering with The T on the bike-sharing program.
Bike-sharing will be addressed at the next The T board meeting.
For more information on The T's strategic plan click here.