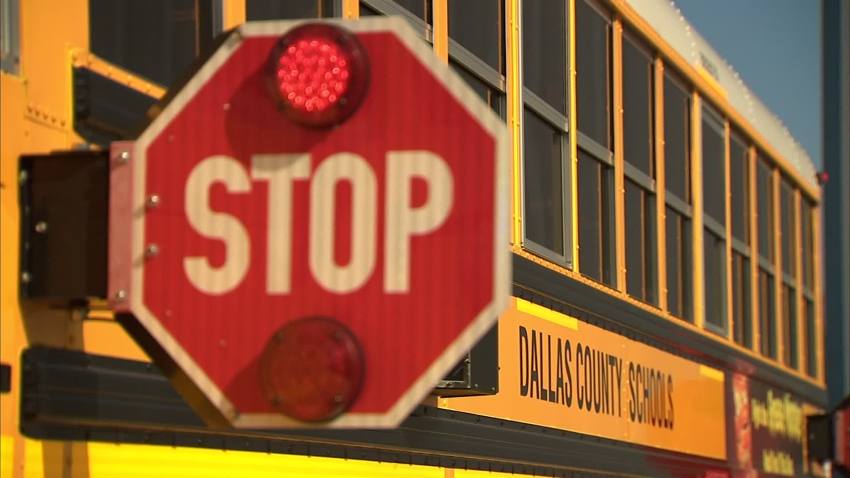 For months NBC5 Investigates has been examining public records obtained from Dallas County Schools (DCS), a government agency that serves as the bus contractor for nine local school districts:
Aledo ISD
Carrollton/Farmers Branch ISD
Cedar Hill ISD
Coppell ISD - contract canceled in March

DeSoto ISD
Dallas ISD (actively seeking new proposals for choice/magnet schools)

Highland Park ISD
Irving ISD
Lancaster ISD
Richardson ISD
Weatherford ISD - contract canceled in March

White Settlement ISD - contract canceled in April
This page is designed to give viewers a first-hand look at the key documents NBC 5 Investigates used to form the basis of the investigation.
Red Light Running Tickets
Finding: More than 200 DCS school bus drivers accumulated a total of 480 tickets for running red lights and also running past the stop arms of other school buses. The violations were captured on red light cameras and stop arm cameras.
The Records: DCS check registers available online showed the district had written approximately $80,000 in checks for what were described as "DPS Violations." We entered the check register information into a spreadsheet:
Local
The latest news from around North Texas.
NBC 5 filed an open records request with DCS asking for the purchase orders, invoices and citations for each of the checks written for DPS violations. The district sent us more than 1,100 pages of documents which showed the checks were written to cover red light camera and stop arm camera tickets accumulated by drivers. The "invoices" turned out to be the tickets for the violations committed by the drivers. Here are some sample records of the tickets and the checks DCS wrote to pay them:
For more on how the team uncovered this part of the story, CLICK HERE to watch the Facebook live video which discusses the findings in more detail.

Outcome: After NBC 5 Investigates questioned DCS about the ticket records, the agency fired 13 bus drivers and announced it would suspend 229 more. Two high ranking managers were demoted – the executive director of transportation and the agency's top business manager. DCS says the transportation director has since retired and the business manager was terminated. DCS leadership acknowledged the agency had not been enforcing the district's policy which called for drivers to be suspended for first and second red light ticket offenses and fired for third offenses. That had not been happening for approximately two years. DCS also implemented a new policy that will result in immediate termination for any bus drivers who run past a stop arm camera - even once.
Bus Crash Records:
Finding: Texas Education Agency Records show, in the 12 school districts where DCS provides bus transportation, DCS reported numbers that show a 103 percent increase in bus accidents from the 2014-15 school year to the 2015-16 school year. In 2014-15 they reported a total of 200 incidents while in the 2015-16 school year the number they reported more than doubled to 405 crashes.
The numbers include crashes with injuries and also minor incidents where students were on board.
The Records: The Texas Education Agency requires school districts to report yearly bus accident numbers in what is known as the BARS reporting system. DCS forwards crash statistics to districts it serves and they typically forward the information to the TEA. Most of those records are available on line: Download the data
For any school district DCS serves that had not yet supplied accident data to TEA, NBC 5 Investigates contacted them directly to obtain their BARS reports. In this chart we compiled all of the BARS numbers by school district: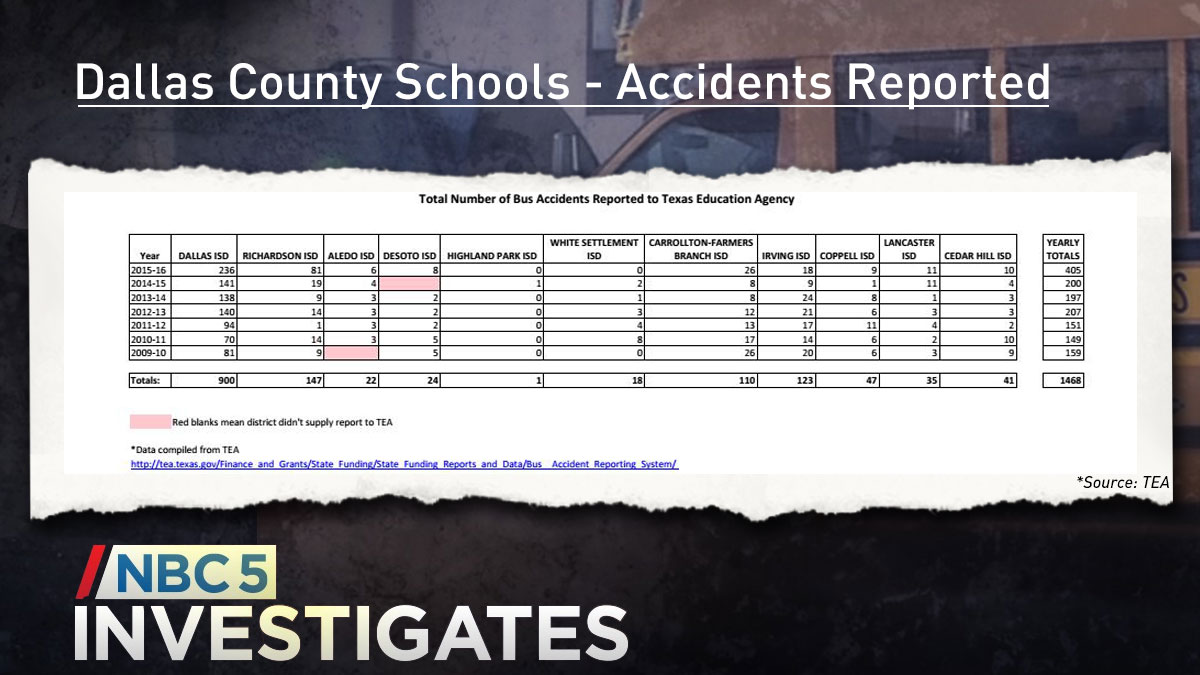 The TEA BARS reports also show at least 86 students have been injured on DCS buses since 2009.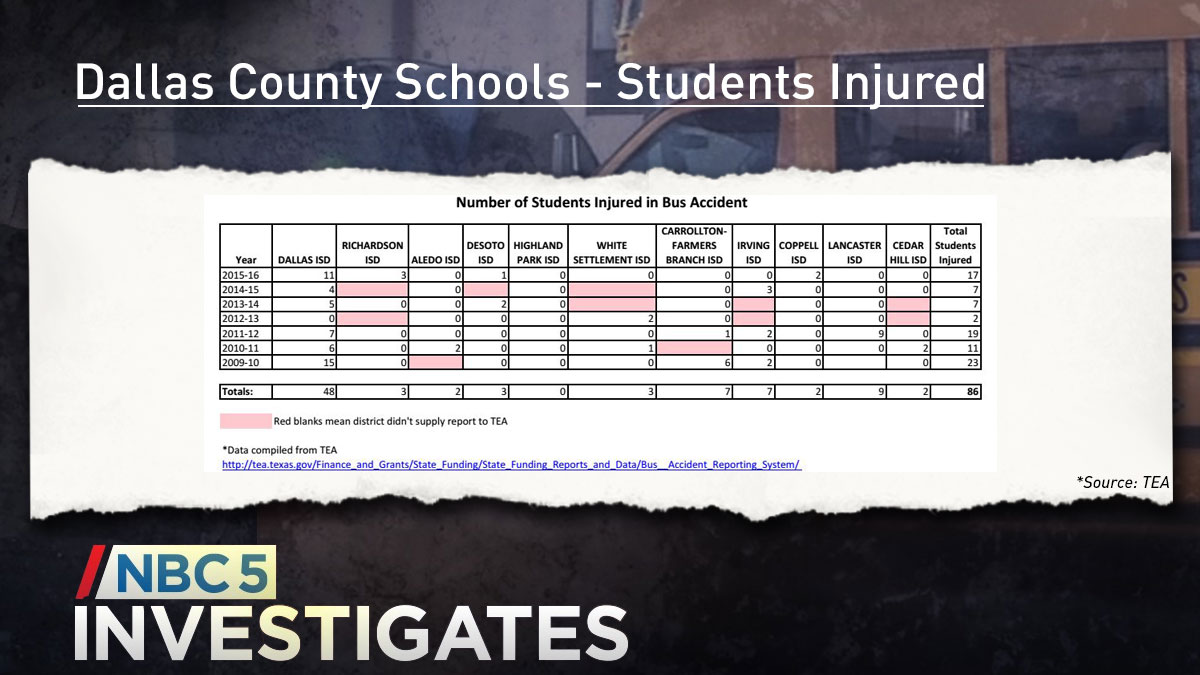 After NBC 5 reported the BARS report numbers, DCS said it wanted to revise the numbers it had provided to the TEA. However the TEA says it will not accept any revision to the numbers reported once the reporting deadline has passed. Still, DCS released this second chart to us which includes some lower accident totals. For example the 405 number originally reported for 2015-16 was reduced to 345. DCS did not provide an explanation for that change. The chart shows mileage driven has stayed roughly the same over 6 years and an increase in incidents over that time period, from 124 accidents in 2010/11 to 345 in 2015/16: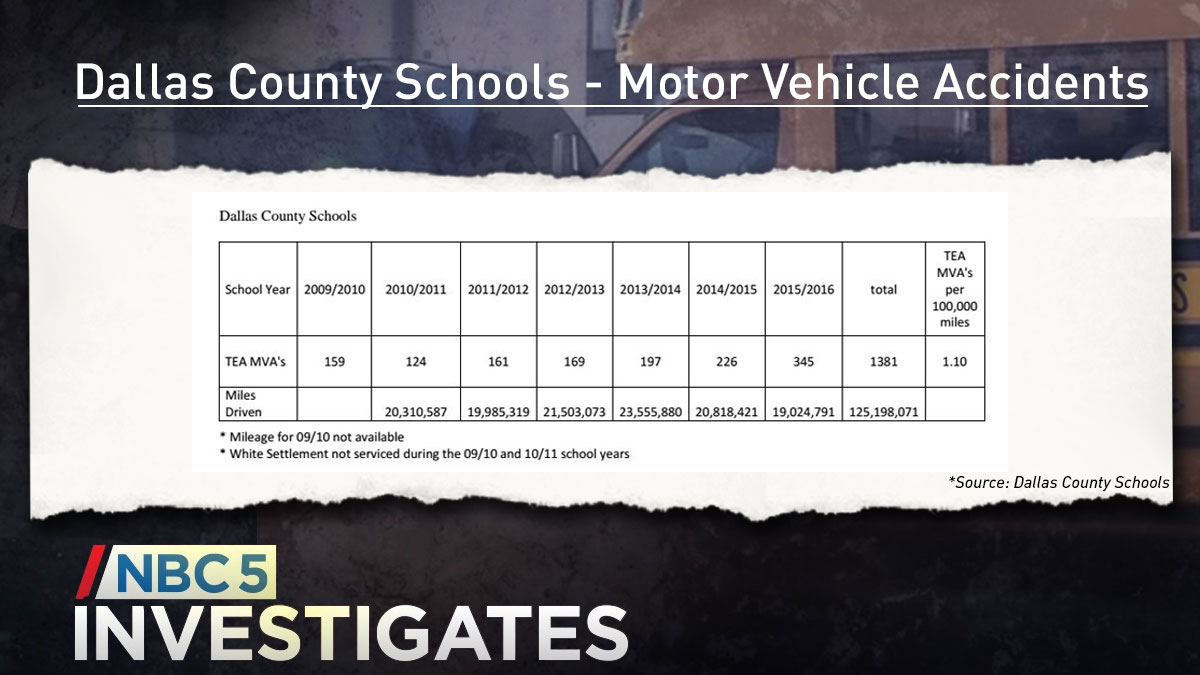 When NBC 5 questioned a PR firm hired by DCS about those numbers they responded with a statement saying DCS wished to revise the numbers even further. The statement said DCS employees made "mistakes" and over-reported accidents. DCS now wants revise the number of accidents reported ion 2015-16 from 405 to just 3. Their reasoning is that TEA rules give districts "discretion" in deciding whether to report cases where there was no citation to a vehicle involved in the crash. The TEA however says it will not accept revised numbers after the reporting deadline has passed, so the 405 number will remain the official number on file.
Because DCS is a government agency it is not required to report accidents to the Federal Motor Carrier Safety Administration. This makes it difficult to compare DCS's record to other private for-hire bus companies. FMCSA rules require reporting of all crashes with a death, injury or where a vehicle involved was towed. While in Texas, TEA rules require only the reporting of incidents where students were on the bus and a citation was issued.
Outcome: NBC 5 has requested DCS release its internal records detailing all incidents so that we can more thoroughly examine this issue. As soon as we have received complete information, and are able to analyze those records, we will report that information.
Driver Complaints
Finding: DCS bus drivers received more than 4,100 complaints called in by citizens in about a 20 month period. Approximately 2,000 of those complaints are for reckless driving and speeding.
The Records: NBC 5 requested all records of what DCS calls "Q-calls." These are calls made by citizens reporting concerns about DCS buses. DCS provided us with a database that tracks the calls. The database shows more than 4,100 complaints about drivers over about 20 months. About 2,000 of those complaints are for reckless driving and speeding. DCS points out, because these are citizen calls, some complaints are unreliable: Download the data
(Disclaimer: - Because some complaints were not verified we have redacted the names of the drivers and complaint callers from the version posted on-line.)
The database shows 26 DCS bus drivers received 10 or more complaints in less than two years. One driver received 32 complaints. Out of the more than 4,100 total complaints, the database lists just one complaint that resulted in termination following complaint investigation. According to the database 14 complaints resulted in suspension, 13 resulted in loss of merit pay and 56 drivers received retraining.
Outcome: On Dec. 8, 2016, DCS announced it would implement weekly random check rides for more than a dozen drivers with 10 or more complaints, including the driver who received 32 complaints mostly for reckless driving and speeding. DCS also reported four drivers with ten or more complaints had been fired after further investigation, beyond the one firing listed in the database. Two more drivers with 10 or more complaints have retired while others have been ordered to re-training.
On-time / Late Bus Records:
Finding: DCS and the school districts it serves have received numerous complaints about late and no-show buses over the last year.
The Records: NBC 5 requested internal emails and logs of complaints maintained by school districts that contract with DCS including Carrollton-Farmers Branch, Coppell, Irving, Lancaster and Richardson. Those records detail many complaints of late or no-show DCS buses from parents, teachers and principals since the beginning of last school year. Irving ISD has maintained a detailed database of complaints this school year:
Here are some samples of the complaint emails from other school districts:
NBC 5 also requested internal "Q-call" records from DCS which detailed about 200 complaints phoned in to DCS for late and no-show buses over approximately 20 months. These are complaints called in by citizens to a phone line maintained by DCS.
Outcome: NBC 5 Investigates has requested more complete on-time arrival date from DCS and school districts that contract with DC. As soon as we have received complete records and are able to analyze it we will report that information.
DCS claims their on-time arrival data shows their buses are on time 90 percent of the time. But Dallas ISD insists the most recent data provided by DCS shows that as of April 2016 buses were on time only 66.7 percent of the time.