In July, Dallas County Schools will be shut down forever. In November 2017 voters acted swiftly to close the 172-year-old agency after more than 100 reports from NBC 5 Investigates revealed corruption and staggering financial mismanagement that cost taxpayers millions of dollars.
DCS officials signed risky contracts to outfit school buses in 12 local school districts with exterior cameras that would record drivers ignoring the bus's safety "Stop" arm. The offenders would then be ticketed and the agency would profit. The plan, however, didn't work.
The stories highlighted below reveal how money that was supposed to keep children safe wound up in the pockets of a public official and cost hundreds of people their jobs.
The Characters
Rick Sorrells, former DCS superintendent forced to retire in 2017 amidst questions about the finances at DCS. In April 2018, Sorrells pleaded guilty to federal wire fraud and admitted to receiving more than $3 million in bribes and kickbacks in exchange for entering into contracts for $70 million in school bus camera equipment. He's expected to be sentenced in August.

---

Larry Duncan, former president of the DCS Board and a former Dallas City Council member. He stepped down from his position as president of board for Dallas County Schools on May 17, 2017 amid ongoing investigations into a multi-million budget gap, the agency's controversial stop-arm camera program and a sale-leaseback land deal that will cost taxpayers millions.

---

Robert Leonard, CEO of Force Multiplier Solutions, a company that has collected tens of millions of dollars from DCS contracts related to a school bus safety camera program. Leonard's company was founded in Louisiana and later moved its headquarters to Dallas. Despite guilty pleas from Swartwood and Sorrells, Leonard insists he's done nothing wrong and blames DCS for mismanagement.

---

Slater Swartwood Sr., a Louisiana real estate consultant involved in a $25 million land deal at DCS. Robert Leonard has described Swartwood as his "real estate consultant for over 40 years." Swartwood, of New Orleans, admitted to federal investigators he funneled millions of dollars in bribes to a top DCS official — money that the government says came from the camera company, which had millions of dollars in contracts with DCS.

---
The key players are now-former DCS Superintendent Rick Sorrells, now-former DCS board president Larry Duncan, Robert Leonard, the CEO of Force Multipier Solutions who supplied the cameras, and the man Leonard describes as his personal real estate consultant, Slater Swartwood Sr.
Nearly five years ago, while under the direction of Sorrells, DCS began spending millions on cameras that were to be installed inside and outside every bus in DCS' fleet - including the stop-arm cameras mounted to the outside of the buses. The agency then used taxpayer money to launch a partnership with the camera provider to give the cameras to other districts for a cut of the ticket revenue.
Sorrells promised the program would make enough money to cover the cost of the cameras, but by 2014 DCS was already millions of dollars in debt and was borrowing from it's own general fund to cover the losses on the program. DCS had trouble convincing other large cities to join the program and drivers weren't paying their tickets. Still, in a 2014 interview, Sorrells made a bold promise.
NBC 5 Investigates did come back and by 2017 things were even worse. DCS had a $42 million budget shortfall and were in danger of being unable to pay their bills. The agency incurred layoffs and board members accused the superintendent of keeping them in the dark about the finances.
As Sorrells continued to dodge interview requests from NBC 5 Investigates, State Sen. Royce West (D-Dallas) called for his resignation.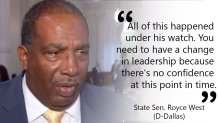 Days later, Sorrells was forced to step down. At about the same time, NBC 5 Investigates discovered records showing in 2015 the agency quietly sold off four bus lots in what's called a sale-leaseback deal. The deal gave DCS about $25 million in quick cash, but ultimately saddled them (taxpayers) with $47 million in lease payments over the next 20 years.
Local
The latest news from around North Texas.
From a copy of the purchase agreement, NBC 5 Investigates also learned DCS' listing broker was Slater Swartwood Sr., whose son was a vice president at Force Multiplier Solutions, the bus agency's camera supplier. FMS' CEO Robert Leonard told NBC 5 in a statement that Swartwood was his personal real estate consultant for more than four decades. In the end, Swartwood Sr. made about $750,000 brokering the deal, according to the closing documents.
Other records obtained by NBC 5 Investigates show Swartwood's family and a business registered to his home in New Orleans have donated more than $32,000 to DCS Board President Larry Duncan's campaign since 2012 -- the same year the agency launched the camera program. That money is only part of the $245,000 in donations Duncan received from employees of FMS and their family members.
Duncan, who ran unopposed in the last election, raised only about $8,000 from people not connected to FMS, NBC 5 Investigates learned. When NBC 5 Investigates asked Duncan about the donations, he insisted they were all legal.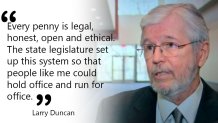 Records obtained by NBC 5 Investigates raised more questions about the timing of those donations and the sale-leaseback -- some of which were made the same week the DCS Board approved the land deal.
For weeks, NBC 5 Investigates tried to ask Duncan how Slater Swartwood ended up making nearly $195,000 from DCS in the land deal but he would not respond to messages. When we asked him about it outside of DCS headquaters, Duncan would only reply "I already sent a statement." After that meeting, Duncan did finally send a statement that said ...
Sorrells, too, would not answer questions about the land deal and referred NBC 5 Investigates to the interim superindentent who took over after he stepped down.
In an email, Slater Swartwood told NBC 5 Investigates his family's contributions were "legally made and reported ... my contribution was based on my support of the candidate I believed could benefit the interests of public education and child safety." He added that he had no idea DCS paid nearly $200,000 of his consulting fees and that they were wired into his account without any indication as to the source of the payment.
NBC 5 Investigates also learned the leasing company that bought the bus lots and leased them back to DCS, Wedgewood Investments, was referred to Slater Swartwood by FMS CEO Robert Leonard and that Wedgewood's sister company, Elga, helped DCS finance some of the camera purchases from FMS. Wedgewood and Elga are run by Rudy Trebels and his sons, seen in the photo below at a golf tournament in Dallas with Sorrells. Trebels refused to speak to NBC 5 Investigates.
Meanwhile, DCS Finance Director Denise Hickman told NBC 5 Investigates even after the sale-leaseback deal in 2015, Sorrells kept buying more cameras.
Just four days after the land deal closed, records showed DCS wired another $2.6 million to FMS as a downpayment on 1,000 bus camera systems -- even though the agency had a warehouse already full of unused cameras, some still on shipping pallets.
NBC 5 Investigates found clues as to why the agency would keep buying cameras in public social media posts published on Facebook and Instagram by Sorrells' adult children.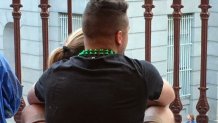 In those posts, Sorrells' family could be seen on a balcony in New Orleans - the city where FMS started. Another public post by Sorrells' daughter included a picture of her with her father and the comment, "Love you guys" from Linda Leonard. Sorrells' daughter replied, "Love you Linda Leonard."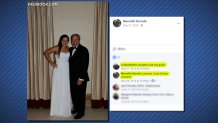 Following up on a lead from a confidential source, NBC 5 Investigates learned Sorrells and Leonard had adjacent apartments in a building in the French Quarter.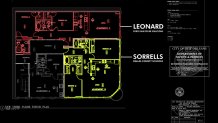 When NBC 5 Investigates arrived at the airport to catch a flight to New Orleans, Rick Sorrells was waiting at the gate to take the same flight -- though he didn't seem to notice us.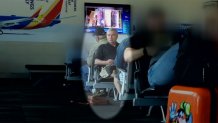 Once in New Orleans, NBC 5 Investigates drove to the French Quarter where we saw Sorrells walk into the apartment building on the corner of Decatur and Iberville.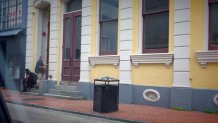 The next morning, NBC 5 Investigates caught up with Sorrells outside the building and asked him when and how he got the apartment.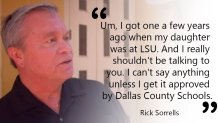 Sorrells did say that Robert Leonard had no connection to his apartment and that he was paying for it himself.
Building floor plans obtained from the city show two side-by-side units on the building's second floor. The building's owner, Louis Faust, confirmed to NBC 5 Investigates that he lived in one apartment downstairs and that the other two are used by Rick Sorrells and Robert Leonard, who have separate leases on the apartments. Our confidential source said Leonard used the apartment for housing guests and employees of FMS.
NBC 5 Investigates asked both Leonard and Sorrells if they could provide copies of their leases and payment records for the apartments. Sorrells did not respond and Leonard's attorney said he advised his client to refuse the request.
Emails obtained by NBC 5 Investigates show that Rick Sorrells was not the only DCS official to visit New Orleans. According to one email, Larry Duncan was treated to a room at a five-star hotel, dinners at the city's finest restaurants and given hundreds of dollars of casino chips -- all gifts from FMS, according to a message written by Leonard's assistant.
Attempts to reach Duncan for comment on the trips went unreturned.
Just one day after NBC 5 Investigates exposed the DCS land deal, lawmakers in Austin reacted. For months the state legislature had been debating a bill that would allow voters to shut down the agency. Citing the land deal and safety concerns brought forth in NBC 5's reports on some DCS bus drivers running red lights, State Rep. Lance Gooden (R-Terrell) pressed interim Superintendent Leatha Mullins to ask law enforcement to look into what had taken place at the agency.
Mullins pledged to call the authorities and within two months of that hearing it was clear a criminal investigation was underway. FBI agents had raided a home outside New Orleans that belonged to Robert Leonard and searched FMS' Dallas office.
So who is Robert Leonard, the man behind the bus cameras. As DCS lost millions on deals with his company, Leonard seemed to live large. His former neighbor, Beth Mazziota, said when Leonard bought a resort-style home on a private lake in Dallas he meticulously renovated the place from top to bottom.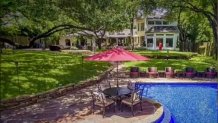 Mazziota said Leonard boasted about all the money he was making from business ventures with Dallas County Schools. Mazziota said Leonard also indicated he was a winner in the land deal.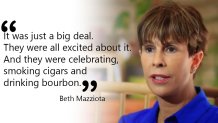 As Leonard tried to win camera deals in other cities across Texas, he made two appearances that raised eyebrows. In 2014 he appeared in Austin with Edwin Edwards, the former Louisiana governor who spent eight years in prison for public corruption. Austin's mayor proclaimed it "Edwin Edwards Day" -- a move later blasted in the local paper as "honoring the dishonorable." In 2016 Leonard, Sorrells and Duncan appeared together in Washington D.C. as Leonard announced an attention-grabbing $1 million gift to the National Assocation of Latino Elected Officials' Educational Fund. NALEO Treasurer Pauline Medrano introduced Leonard with a warm embrace as he offered the five-year partnership. Leonard's million-dollar promise was not fulfilled however -- NALEO said Leonard gave $167,000 in the first year but later said due to financial reasons FMS was unable to meet their $1 million committment.
An email obtained by NBC 5 Investigates show Leonard sought Medrano's help as he tried to secure camera deals in other cities with Latino elected officials. One message indicates Medrano helped bring San Antonio officials to Dallas to see the cameras. When Medrano ran for county treasurer, Leonard made a $15,000 donation to her campaign.
Politics, it seems, even extended to Leonard's constant companion, his dog Jack who had a business card as CEO of Force Multiplier's Dog Division.
"Jack was everywhere with him. He'd ride in the car, going to work. They were never separated that I can remember," Mazziota recalled.

Campaign finance records show Jack once made a $200 donation to Dallas Mayor Pro Tem Dwaine Caraway during his unsuccessful run for Dallas County Commissioner -- one of many donations Caraway received from friends of Robert Leonard.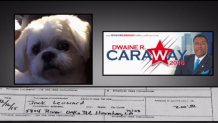 Seven months after NBC 5 Investigates exposed the sale-leaseback, the U.S. Justice Department took action and filed criminal charges against Slater Swartwood Sr. Swartwood plead guilty in federal court in Dallas to a money laundering conspiracy charge. In court papers he made a stunning admission, that he helped direct millions of dollars in bribes and kickback payments to DCS Superintendent Rick Sorrells.
Sorrells later entered a guilty plea himself, admitting he took at least $3 million in bribes and kickbacks in exchange for the bus camera contracts. Prosecutors said Sorrells spent the money on credit card debt, trips, personal expenses, an apartment in New Orleans, cars and jewelry. Sorrells has agreed to testify for prosecutors in a plea deal that caps his possible prison sentence at 10 years. Swartwood's deal caps his prison sentence at five years.
For now, the question is what information will the two men provide. Robert Leonard remains under FBI investigation, though he denies any wrongdoing.
There are still questions, however, about Leonard and Swartwood's relationship to Dallas Mayor Pro Tem Dwaine Caraway.
Records obtained by NBC 5 Investigates show Caraway and his family received tens of thousands of dollars from one of the companies Swartwood admits he used to funnel bribes to Sorrells - Elf Investments.
In 2013 and 2014 Caraway filed city financial disclosures showing he was paid two retainers from Elf Investments for "$25,000 or more," but when asked Caraway couldn't remember how much he was paid to help Swartwood search for land in South Dallas.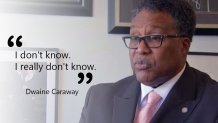 Caraway said he spent time with Swartwood and Leonard, driving around looking at land for housing but that he didn't know Swartwood and Leonard had a close relationship.
Swartwood and Leonard shared an office in Louisiana. That address of that building shows up on a document detailing a $20,000 loan Elf Investments made to Caraway's father in 2014. Caraway said he asked Swartwood for the loan to help his elderly parents who were behind on their taxes.
Caraway said he's not made a single payment on the loan and that no one is making payments on the loan even though the loan paperwork said it should have been paid back two years ago.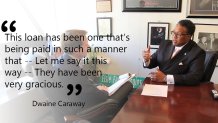 In 2015, Caraway took action on the City Council that benefitted Swartwood's associate, Robert Leonard, when he convinced the council to grant DCS a 25-year extension of the agreement that allowed DCS to continue operating a school bus camera program. DCS needed the city's approval to keep issuing tickets to drivers caught illegally passing the school bus stop arm cameras that Leonard's company provided. Leonard and his company also got a cut of the ticket revenue DCS collected under their partnership with the agency.
Caraway, though, insists his votes for the program had nothing to do with his relationship to Leonard or Swartwood and that he absolutely did not trade money for votes.
Caraway said he would welcome questions from the FBI and that he he has nothing to do with the problems at DCS. The FBI has declined to comment on whether Caraway is under investigation, but sources told NBC 5 Investigates that investigators have been asking questions about Caraway's relationships to people involved in troubles at DCS.
After the meeting with Caraway, NBC 5 Investigates obtained city emails showing he participated in a meeting with Slater Swartwood and City Hall real estate officials about a city-owned vacant lot at 3102 Oak Lane.
In the email, Bonnie Meeder, then assistant director of the city's real estate division wrote, "I met today with Bob - Slater - interim City Managger Theresa O'Donnell and Councilmember Dwaine Caraway and we discussed this site along with others."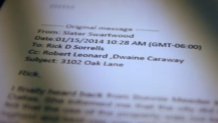 The email was sent to then DCS Superintendent Rick Sorrells who wanted to buy the Oak Lane property for a new DCS maintenance facility. Other emails showed Swartwood was helping broker the deal and that Leonard planned to have office space in the new facility.
When asked about the emails, Caraway told NBC 5 Investigates, "My mother told me not to talk to you anymore."
NBC 5 Investigates has also learned Caraway introduced Leonard to Dallas Mayor Mike Rawlings in 2013 and that the pair met twice to discuss business opportunities in the city. Rawlings said Leonard wanted to build low income housing in South Dallas and that in 2016 he had a grand vision to build a new sports stadium in partnership with a prince from United Arab Emirates.
After the meeting, Rawlings agreed to write a letter for Leonard that would go to the prince's handler saying, "I have known Robert for many years and he has done great work for the city of Dallas. I think it would be mutually beneficial for the two of you to meet in Los Angeles. I trust Robert to facilitate great projects for the future of Dallas."
The mayor said he now regrets those words in light of the financial disaster involving bus camera contracts Leonard's company had with Dallas County Schools.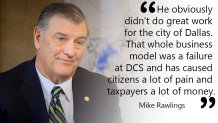 Rawlings never received any money from Leonard and added he never sensed any trouble from him. But he said he does regret the City Council's move to extend the camera program.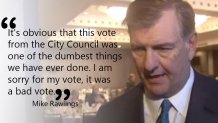 In the months before the vote, Leonard and his associates gave generously to the campaigns of Dallas City Council candidates and some of the donations were hand-delivered by DCS Board President Larry Duncan.
In 2015 Duncan met with City Council candidate Joe Tave at an Oak Cliff coffee shop. Tave said Duncan started the meeting with a personal donation for $100 but at the end of the meeting Duncan had more donations.
"He said to me, he said, 'Well I've been able to raise a little more money for you.' I said, 'Oh, is that right?' He said, 'Yes.' So he handed me an envelope and he said in that envelope you will find five checks for $1,000 each."
Tave said when he looked at the checks, some had Louisiana addresses and the names included Robert Leonard and Slater Swartwood Sr.
The money was part of at least $78,000 Leonard and his associates pumped into the campaigns of at least 15 City Council candidates between 2013 and 2016. We analyzed the donations with our partners at The Dallas Morning News and learned many of them were made in the spring of 2015, around the time the City Council renewed the agreement that allowed DCS to continue its bus camera program. After our reporting on the donations, several City Council members announced they would donate the money received from people tied to the bus camera program to charity.
In November 2017 Dallas County voters went to the polls and pulled the plug on DCS, electing to shut down the beleagured agency after state lawmakers put the issue on the ballot and argued the agency was so troubled it could no longer function.
"DCS is completely unaccountable to taxpayers and financially corrupt," Don Huffines
The day after the vote, longtime employees were angry their former bosses put them in such a bad situation. Many employees placed the blame directly with former Superintendent Rick Sorrells.
Some board members said he his the agency's dismal finances during the time he now admits to taking bribes in exchange for contracts.
Within days of the vote to close DCS, the entire board was replaced by a state-appointed dissolution committee whose job it now was to divide up the assets and wind down the agency. The buses will be split among the member school districts that used DCS for transportation, including the Dallas ISD which will manage its own bus service in 2018-2019.
Many DCS employees were angry and concerned about their futures and loss of employment.
Officials reassured drivers they can apply for new jobs with the Dallas ISD or other school districts. As of this writing, many of the drivers have already been rehired.
For taxpayers, it will take years to climb out of the massive hole DCS leaves behind. Dallas County will continue to collect DCS property taxes for five or six more years to pay off the agency's $110 million in debt. Most of that debt came from the camera program and the land deal.
Former DCS Finance Director Denise Hickman remembers just six years ago the agency had plenty of money and few financial worries.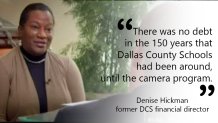 NBC 5 Investigates also learned DCS didn't have to spend millions on cameras. In 2013 we traveled to suburban Atlanta where a district there received cameras for a lot less -- zero dollars.
Cobb County Schools signed a deal with a company that put free cameras on about 10 percent of their school buses in exchange for a portion of the fines collected from drivers. In three years, the district said it saw a drop in violations -- making kids safer without spending any taxpayer money.
"I'm proud to say that we are producing something that is not costing or a burden to the school distric," said Rick Grisham, Cobb County Schools.
DCS spent more than $75 million putting cameras on their entire fleet and then trying to take the program to more cities. Cameras, worth millions, piled high in a warehouse for a deal that never happened while the man in charge promised the whole venture would pay for itself.
Sorrells, after entering his guilty plea in April, is scheduled for sentencing in federal court in August.
The dissolution committee shutting down DCS recently hired lawyers to try to recover money from anyone who defrauded the agency. The Securities and Exchange Commission has also launched its own investigation to see if DCS bond holders were defrauded -- much of the camera equipment was purchased with bond money. The FBI's investigation, meanwhile, is ongoing.
NBC 5's Jack Douglas Jr., Frank Heinz and Jose Sanchez contributed to this report.