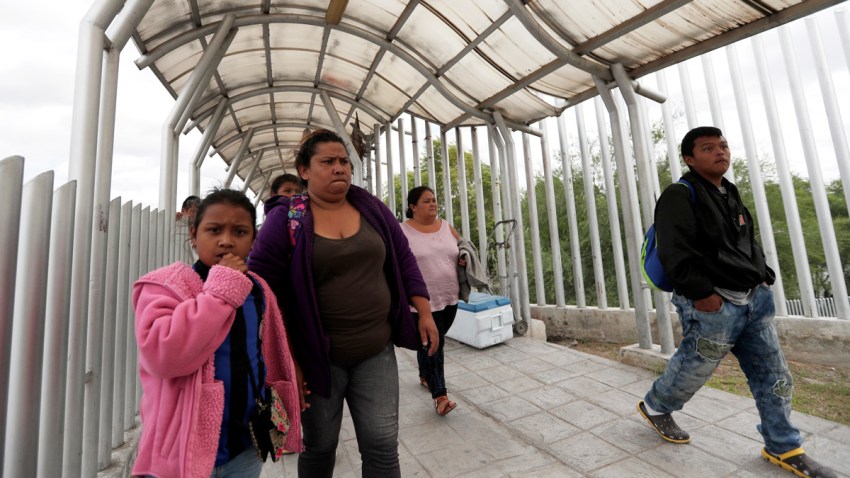 At the foot of the Mexican side of the Gateway International Bridge, a group of Americans bearing a wagon packed with homemade food approached a small area curtained off by a blue tarp.
The Brownsville Herald reports as temperatures dipped to 47 degrees, they unpacked trays of green beans, turkey with pasta and more as the people sleeping in the makeshift camp helped arrange the food. There were about 16 people sleeping there at night, waiting to be called on by Mexican and U.S. immigration officials to begin their asylum applications.
Brendon Tucker, a 23-year-old native of Canyon Lake with sandy-blond hair, greeted everyone at the bridge like an old friend. He and the other volunteers represent an off-shoot of grassroots efforts to help migrants released from detention centers in the Rio Grande Valley. Those who give humanitarian aid at the bridges and Brownsville bus station collectively call themselves Team Brownsville, and Tucker independently runs the Asylum Seeker Kitchen.
Local
The latest news from around North Texas.
Tucker moved to Brownsville four months ago, at the height of outrage over the separation of families that crossed the border, and spearheads the effort to provide nightly meals to people waiting on the bridge. He said he's amazed by the positive attitude of the people there.
"They're just such good people," he said. "It was always, `Hope for the best, prepare for the worst.'"
There were less people than expected, a good thing because some had been allowed to cross the bridge, he said. Among them were a pregnant woman who had been there for a month and a 13-year-old girl who had suffered from seizures.
Gaby Zavala, a Brownsville resident who volunteers with Tucker, took donated sneakers to women sitting among the cots set up nearby. The women had been wearing socks with sandals.
Zavala said the migrants they meet on the bridge live in difficult conditions. Some trekked through the Colombian jungle; others were transported in trucks by smugglers. Some survived assault on their journey.
"They're glad to be somewhere," Zavala said. "They are just waiting to see what happens here."
Zavala left the area briefly to get medicine at a nearby pharmacy. There's only so much volunteers can do to help those who are sick, and Zavala said she hopes to bring doctors to conduct basic health exams.
"What I like is people kind of came together with the resources they have," she said. "Every day there's different people donating food."
Olga Rosana Diaz, 50, of Cuba, said she had been on the bridge for 15 days and previously spent 10 days in a migrant shelter. She was thankful for the volunteers' help, adding that they otherwise might not even have access to water.
"In Cuba, there's no liberty. For the majority of Cubans, it's very difficult," Diaz said of her reasons for seeking asylum. "There's no work, and they don't let you work. You can't live off the salary the government gives you."
In a small room behind the camp area, a soft-spoken woman named Sonia, 30, took shelter from the cold with her 2-year-old daughter. It was their first day on the bridge after hitchhiking from Guatemala, she said in a voice barely louder than a whisper. She fled after her husband threatened and tried to kill her, she said.
As the volunteers packed up after the meal, a woman asked for Tucker's phone number. He had prepared food expecting about nine additional people, and she wanted to be able to give him a headcount in the evenings so none goes to waste.
Tucker came to Brownsville to be part of a march against family separation and later met a woman who had camped out in front of a detention center. He was disillusioned with groups in Austin that didn't have impact on asylum seekers, and he had taken to heart a book passage that said people who want to foster change have to make it their job.
That's when he met Sergio Cordova and Michael Benavides of Team Brownsville, which distributes donated clothing, food and information on legal services to migrants left at the bus station.
"I live in the Hill Country, and there's just no way to get involved up there," Tucker said. "It was just a really good opportunity to get involved."
He sold some of his belongings and moved to Brownsville in July. With plenty of restaurant experience, Tucker told other Team Brownsville volunteers that home cooking was the best way to feed asylum seekers and make donated funds last longer. He started a GoFundMe campaign in August seeking to raise $12,000 to cover the costs of his lease along with food and drinks for the migrants for a year. The campaign has raised about $22,000 to date.
It was at the bus station across the street from his apartment that Tucker met Rolando Covar, a homeless man who had been helping migrants navigate the bus system years before anyone else. Tucker invited Covar, who has a special rapport with migrants, to move in and continue keeping track of people in need of help.
Tucker doesn't speak much Spanish -- he does an hour of the language-learning app Duolingo each day -- and Covar doesn't speak English, but they're both learning.
Tucker said other people have been pitching in with cooking or making sides, and the goal is to bring in local restaurants that would volunteer to make meals once per week. Even then, he won't be heading back to the Hill County.
"I plan to run the kitchen until people in Brownsville can take it over, and then I'm going to move to El Paso to open a new one," he said.
Copyright AP - Associated Press