A former Dallas-area priest who has been accused of molesting children in the 1980s was arrested in Missouri on Wednesday night.
Dallas police confirmed Wednesday they issued an arrest warrant for sexual assault of a child for 78-year-old Richard Thomas Brown. He was booked into jail in Jefferson County, Missouri, Wednesday evening, the county sheriff's department confirmed to NBC 5.
According to the arrest warrant affidavit Brown admitted to police that he was sexually attracted to young girls. The document details the allegations of just one victim, but also details interviews detectives had with Brown.
The affidavit says Brown admitted to sexually abusing multiple children at four different parishes in North Texas. Brown told detectives that the Diocese of Dallas "knew about sexual abuse allegations against him in 1987."
Brown says the Diocese responded by moving him to a different church and that years later another priest caught him with a victim and again, he was sent to another church.
The affidavit says a detective looking at Brown's file obtained from the Catholic Diocese of Dallas during the investigation into clergy sexual abuse of children found that at one point the Diocese sent Brown for psychological evaluation after an allegation against him. A psychologist's wrote in 1994 it was his opinion was that Brown "had a long history of pedophilic behavior."
The Dallas Morning News reports Brown was taken into custody in Dittmer, about 30 miles southwest of St. Louis, on property owned by the Servants of the Paraclete. The group operates a center at the site whose mission is to "provide a safe and supportive environment for the rehabilitation and reconciliation of priests and religious brothers."
The Dallas County Sheriff's Office told NBC 5 on Thursday afternoon Brown has signed his extradition waiver, meaning the sheriff's office has 10 days to pick him up in Missouri.
Local
The latest news from around North Texas.
When it comes to allegations out of Irving, the Diocese said Sunday the case was reported to police but was 'not accepted' by the Dallas County District Attorney's Office. The DA's office said it had 'no comment at this time' when asked to respond to the allegations brought forward by the Diocese.
Brown was among those identified in May 2019, when the Dallas Police Department executed search warrants at three diocese properties: it's headquarters on Blackburn Street, a storage location on Ledbetter Drive and St. Cecilia Catholic Church on W. Davis Street.
A warrant issued at that time documented claims of sexual assault made against Brown dating back to the 1980s. It also stated a family said Brown admitted to them that he sexually abused as many as 50 children during his time with the Diocese from 1980 to 1994.
Brown's status is listed as "laicized," which means he was stripped of his status as a priest.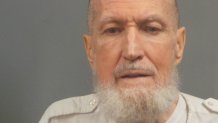 Brown served at five churches in North Texas before he was removed in 2002. He served at Holy Family of Nazareth in Irving, Our Lady of the Lake in Rockwall, St. Mark the Evangelist in Plano and St. Thomas Aquinas and St. Philip, both in Dallas.
The Catholic Diocese of Dallas issued the following statement Wednesday afternoon.
It is our prayer that the arrest of Richard Brown will provide an opportunity for the legal system to address the accusations against him. The Diocese stripped Richard Brown of his public ministry decades ago and he has been officially laicized.

As early as December of 2018, Bishop Burns and the Diocese of Dallas provided DPD with documents and files on Richard Brown in advance of the January 31, 2019 release of names of those credibly accused from 1950 to present. In a letter to police in September of 2019 the Diocese of Dallas expressed concern and the hope that he would be arrested. News that a warrant for his arrest has been issued fulfills the hope of the Diocese that justice will be served.

As he has said in the past, Bishop Burns encourages all victims of sexual abuse to report allegations to law enforcement. We continue to pray for all victims of abuse and continue to work diligently in creating a safe environment.
SNAP, the Survivor's Network, also released a statement.
An arrest warrant has been issued for a former priest from the Diocese of Dallas. We hope that church officials in Dallas will use every resource at their disposal to help law enforcement locate the priest and do outreach to every parish in which he served, encouraging any victims, witnesses, or whistleblowers to come forward and make a report to police.

The arrest warrant for Richard Thomas Brown, a now-defrocked priest from the Diocese of Dallas, was issued on the charge of sexual assault of a child. This crime has only been able to have been prosecuted thanks to the actions of the Dallas Police Department who in May of last year raided several diocesan properties in search of information about possible clergy sex crimes. We are grateful for those members of the DPD because without them it is possible that Brown could still be hurting children elsewhere.

This case is yet another example that belies the claims of church officials that the sexual abuse crisis is in the past. Sadly, children continue to be put at risk in parishes across the country because church officials themselves refuse to be open and transparent with parishioners, the public, and law enforcement about allegations of clergy sexual abuse.

In this case, the Diocese of Dallas defended itself in a statement by saying "In a letter to police in September of 2019 the Diocese of Dallas expressed concern and the hope that he would be arrested." We can only wonder why this letter was not sent in 2002 when Brown was removed from ministry. How many children have been put at risk because church officials chose to quietly wash their hands of a dangerous abuser like Brown instead of taking steps to warn the public about him and inform police about the allegations against him?

Public statements like the ones issued by church officials in Dallas do nothing to protect children. If Bishop Burns and his colleagues want to show they truly care about preventing abuse and protecting children, they should allow the DPD unfettered access to their records so they can uncover the names of other men like Brown who may be under the radar.
The FBI is seeking to identify victims who were persuaded or coerced into a sexual act by a member of the clergy in North Texas between 1985 and the present. They are asking victims to go to https://www.fbi.gov/ntxclergyabuse and complete a confidential online questionnaire. Victims may also call 1-800-CALL-FBI to make a report. They may be contacted to provide additional information.
NBC 5's Maria Guerrero contributed to this report.