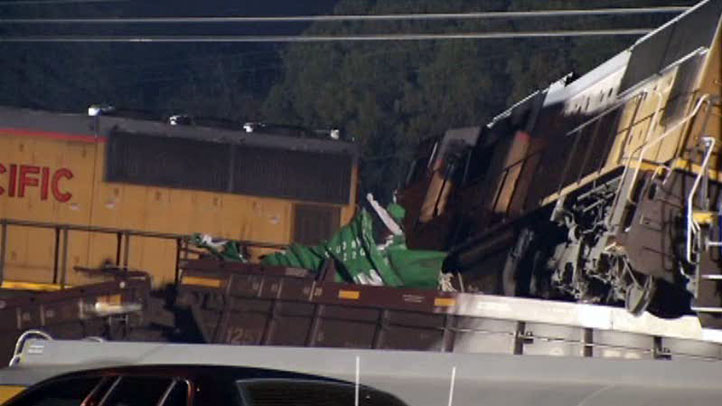 A train derailment last month in Arlington is raising safety concerns among city officials and residents.
Union Pacific Corp. said the Oct. 1 collision between two trains was caused by human error.
No one was injured in the derailing, but residents told the City Council they are concerned about the likelihood of another accident, as well as idle cargo trains carrying hazardous materials.
Local
The latest news from around North Texas.
Union Pacific has stressed that it always closely monitors hazardous material.
"When a train is sitting on the track, [Union Pacific] is fully aware of it through their network in Omaha, Neb., and there's also an employee that is on site the whole time that the hazardous material is left sitting on a track," City Councilwoman Kathryn Wilemon said.
While there are always safety concerns, Union Pacific for the most part operates safely, said Wilemon, who represents a city district the railroad passes through.
She also said rail is the best way to transport hazardous material.
"That is the safest mode of transportation for hazardous material," she said. "It's also mandated by the federal government that they have to carry it, so they can't really pick and choose as to which hazardous material they carry or if they carry it at all. They have to."
The railroad company said it has invested more than $14 million in railway upgrades since 2008 and plans to invest another $16 million in the coming years on Dallas/Fort Worth railroads.
Residents also made noise about the noise.
"We have quiet zones in Arlington, but neighbors are still hearing the horns," Wilemon said.
But Bill Limer, who lives less than 100 yards from the tracks, said he has developed selective hearing.
"We've been living here a long time, and we're pretty used to it," he said. "When we first got here, we could hear the train noise quite a bit, but now we're used to it."
Unless there's a potential hazard ahead, engineers are not supposed to blow train horns through the city's quiet zones to avoid bothering residents.
But Wilemon said it all comes down to safety.
"That's always our No. 1 issue -- public safety and the safety of our citizens," she said.