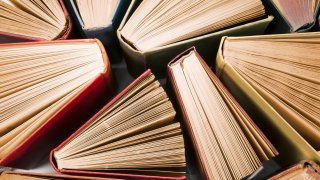 The Spring Book Sale is back in Arlington. The Friends and Foundation of the Arlington Public Library will host this year's event that will have a wide collection of books, jigsaw puzzles, CDs, DVDs and large print materials.
Masks will be required for all volunteers, and shoppers are also encouraged to wear a mask. Other safety measures will be in place.
FFAPL is a local nonprofit that works to bring together library lovers, promote public awareness and community support and encourage gifts and fundraising to support the programs and services provided by Arlington Public Library.
According to the library's website, the book sale schedule is as follows:
Wednesday, March 24, 1 to 6 p.m.

For current FFAPL Members and Memberships available at the door

Thursday, March 25, 1 to 6 p.m.
Friday, March 26, 9 a.m. to 5 p.m.
Saturday, March 27, 9 a.m. to 5 p.m.
Sunday, March 28, 10 a.m. to 4 p.m.

Half-price day, closeout specials!
Teachers/nonprofits special 4:15 to 5:15 p.m.