What to Know
Man going through divorce calls friend, tells him his wife hit her head and died during an argument.
Woman's body found in freezer by police. Her cause of death is unknown.
Man tells friend he plans to commit suicide; later found in bedroom dead from apparent gunshot wound.
The death of a South Arlington couple is being investigated as a murder-suicide after a woman's body was found in a deep freezer and her husband's body in a bedroom inside the couple's home Monday morning.
According to a search warrant affidavit obtained by NBC 5, a man called a friend with the Fort Worth police department to report another friend told him he'd killed his wife and that he'd showed him her body at their home on the 5200 block of Livermore Drive.
The Fort Worth officer relayed the information to Arlington police, who dispatched officers to the home at about 2:30 a.m. Officers attempted to reach the residents, but were unsuccessful.
After obtaining a search warrant shortly before 9 a.m. Monday, officers entered the home and found a man's body in a bedroom, dead from an apparent self-inflicted gunshot wound, and a woman's body in the freezer, dead from an unknown cause.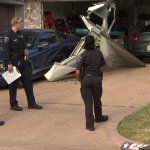 The man was identified by the Tarrant County Medical Examiner's Office as 66-year-old Edward Leon Rogers, Jr. The woman was identified in the search warrant as 24-year-old Alyssa Marie Mejia Rogers, Edward's wife. The ME's office has not yet revealed the woman's cause of death.
Local
The latest news from around North Texas.
The search warrant affidavit, meanwhile, details how a friend of Edward Rogers contacted the Fort Worth police to report Rogers' wife had died after being pushed during an argument and that she'd fallen and hit her head.
The witness told the Fort Worth officer that Rogers was his supervisor at a previous job but that the pair had maintained a friendship. He said Rogers was suffering from depression and had been confiding in him recently about going through a rough divorce. He said last week he and Rogers went to dinner where Rogers confided his wife had been falsely accusing him of domestic violence and that she would injure herself and then call the police to accuse of him of assault. He said because of the accusation, he was arrested and a protective order was filed against him.
He said Rogers' wife, who is from the Philippines, recently visited the country with their young child and did not bring the child back when she returned.
The witness said Rogers claimed his wife showed up at their home recently and enticed him into having sex only to later say she'd recorded the incident and would use it to blackmail him as proof he'd violated the protective order.
On Sunday night, the witness told police he began getting texts from Rogers saying he needed to speak with him and that it was "very important." At about 9:45 p.m., they agreed to go out for drinks and Rogers drove to pick up his friend. Rogers then told him he forgot his wallet and needed to return home. When they arrived at Rogers' home, Rogers parked in the garage and confessed to killing his wife, the witness said.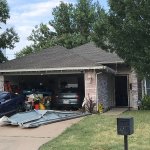 The witness told Rogers he didn't believe him, so Rogers got out of the car and opened a deep freezer where he saw the body of a person inside. The witness said "Rogers grabbed the buttocks of the deceased person, smirked, and stated that it was cold."
According to the search warrant, the witness then told Rogers he wanted to go home. On the drive back to the witness's residence, Rogers said his wife came to his house and was saying, "I got you," which the witness surmised may have been in reference to the possible violation of the protective order.
On the drive home Rogers said, according to the witness, that he and his wife began arguing and that he pushed her, she fell and hit her head on a corner of an "unknown object."
Afterward, it's presumed Rogers put the woman's body in the freezer.
The witness told police that Rogers said he needed to write some letters, but that he planned to commit suicide later in the evening.
Arlington police said they received a call about a deceased person in the home at about 2:30 a.m. Monday. Shortly before 9 a.m., Municipal Court Judge Ashley Johnson signed the search warrant authorizing officers to enter the residence.
Arlington police confirmed Tuesday afternoon they had a history of calls to the home, including one Jan. 14 where Rogers was arrested and accused of two charges of assault of a family member, aggravated assault family violence while exhibiting a deadly weapon and interfering with an emergency call. The last police response to the home was on Feb. 11. Police said there were other calls to the home in 2018 as well.
In 2004, Rogers went on trail for manslaughter, but the case was dismissed because of a hung jury.
The murder-suicide is the second reported in North Texas in as many days. Dallas police are investigating the deaths of a married couple whose bodies were found near White Rock Lake, both with apparent gunshot wounds.