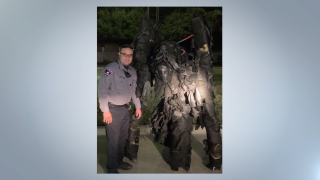 Two police service assistants got a spooky surprise while responding to a report about an unknown creature in an Arlington neighborhood.
According to the Arlington Police Department, police service assistants are civilian personnel who can respond to non-emergency calls, take reports, do parking enforcement, and help officers with other tasks.
That's what Josh Zuniga and Greg Fues were doing when they responded to reports of a "five legged creature" walking down East Arkansas Lane.
The creature turned out to be an Arlington man testing out his elaborate Halloween costume, police said.