One of the Arlington officers involved in the fatal shooting on Wednesday was fired Friday morning for violating department policy on the use of force, the department says.
During a news conference Friday afternoon, Chief of Police Al Jones announced 7-year veteran police officer Robert Phillips was terminated for violating the department's general orders.
"The facts as we know them today are not going to change. They're not going to change today, they're not going to change tomorrow and they're not going to change six months from now," Jones said. "As a result of the administrative review, I have decided to terminate his employment."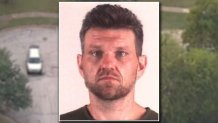 The shooting happened Wednesday afternoon following a slow-speed chase that ended up coming to an end in a cul-de-sac in a neighborhood south of Pioneer Parkway near Collins Street.
The department initially reported a witness called 911 around 2:30 p.m. to report seeing a man slumped over in his vehicle that was stopped in the middle of the road along Pioneer Parkway near Daniel Drive in Arlington. When officers arrived, the Arlington Fire Department was already on the scene and one of the officers tried speaking to the driver later identified as 40-year-old Jesse Joseph Fischer. When asked to stay where he was, Fischer began traveling south on Daniel Drive.
Body camera and dashboard camera video released by the department Friday showed the slow-speed chase turn onto Carla Court where Fischer attempted to turn around.
In the video, Phillips stopped his SUV in the middle of the road, stepped out from behind the door, and pulled out his weapon while demanding the driver stop.
When the driver continued to slowly move forward, the department said Phillips fired several shots into the vehicle.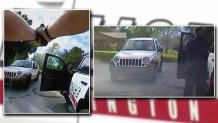 Jones said Phillips had alternatives and that he put himself in a position where he felt like he had to use deadly force. Jones said the officer could have backed up, remained inside his vehicle, or blocked the roadway so it was impassable.
"We could have blocked the street so he couldn't get by. We could have been out there with him for numbers of hours until he actually turned himself in. So there were a lot of different options, but we didn't do that, and that, I think, is a failure on our part," Jones said.
Jones said that it was important to take quick action not only the community for Fischer's family. He said he watched the video with Fischer's father on Friday and answered questions from the family before releasing it to the public.
"I knew I was going to release this video. Without any type of action with it, the community would have been outraged. And that's the last thing I want in Arlington," Jones said.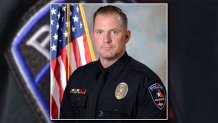 At a press conference Friday, Chief Jones was joined by members of the community who supported his decision. Kathleen Ramon Venable with the Latino Advisory Council under Arlington Mayor Jim Ross called the video " very disturbing".
"In my opinion, and I'm sure in the opinion of a lot of us…we wonder how did this ever happen? Why did it happen?" Ramon Venable said.
Not everyone agrees with the termination. The Arlington Police Association and CLEAT said Friday afternoon the officer should be reinstated.
"I call on the department to reverse this hasty decision today and immediately reinstate this officer," said Officer J.P. Mason, president of the Arlington Police Association. "They are handing down judgements without time for a complete investigation. The department needs to allow the total investigation to be done and all the facts to be reviewed before taking such punitive action against the officer. We're jumping to conclusions here, and it's been less than 48 hours."
Jones said Friday that Internal Affairs investigated the shooting and that the department conducted a thorough investigation that included a statement from the officer.
The chief reiterated that the facts seen in the video are not going to change.
"We didn't rush to judgment," Jones said. "I didn't take this decision lightly. It was very tough for me. It was very tough for the agency."
Jones said that since becoming the chief of police 10 months ago he's been driven by four guiding principles: transparency, accountability, treating people with dignity and respect and having officers engaged with the community.
"During my tenure, I want APD employees to know they are part of a family and I support them 100%," Jones said. "However, make no mistake, I have a responsibility to uphold accountability in this agency and I will do just that."