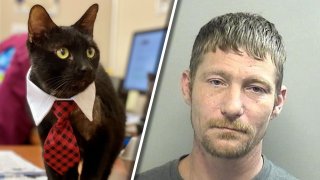 An Arlington man has been arrested and accused of cruelty to animals after police say he shot a cat with an arrow.
According to an arrest warrant affidavit, Animal Services were called to the Arlington Lakeside trailer park neighborhood at 3200 block of West Division Street on July 31 after a cat was found with an arrow in her upper torso.
The affidavit said an animal services employee sedated the cat so that the arrow could be removed before the injury turned fatal.
Several days later, Animal Cruelty Investigator Brandi Alcantar went to the neighborhood and spoke with residents about the shooting to try to learn who was responsible.
According to the affidavit, the resident who called 911 identified one person she thought might be responsible while the complex manager identified a resident who owned a high-powered crossbow.
The affidavit said Alcantar spoke with the first person who said Tommy Wayne Hasting told him that he was standing on his porch outside his home and that he shot the cat as it walked down the street in front of his trailer. The man said Hasting laughed and thought it was funny and that the animal walked off limping afterward.
Alcantar reviewed images of text messages said to be between Hasting and the man where they discussed the injured animal and where Hasting expressed surprise the animal was still alive days later with the arrow stuck in its body.
Local
The latest news from around North Texas.
Hasting was interviewed by police and denied ever having a conversation with anyone about him shooting a cat. Police said in the affidavit that he was inconsistent about his involvement and his relationship with the witness. He maintained his innocence and said he would never shoot an innocent animal.
Police said when he was shown the text messages, he said he was just joking around. Hasting admitted to police had a crossbow and has had arrows for it in the past that looked like the one stuck in the cat.
Hasting's wife allowed police to photograph his crossbow but said she couldn't find any arrows in the home. When she was shown a photograph of the injured animal, she told police the arrow in the cat was the same type her husband previously possessed.
During a subsequent interview with investigators, Hasting again made statements that police said were inconsistent with the evidence. He also admitted that he "drinks a lot and had been drinking the night he texted" the witness but added that he didn't know what he said. He told the investigator that he "wanted to get this behind him" and that he "had an accident and that this was haunting him" but that he "would not admit that he was the one that shot the cat."
With the witness providing a sworn statement that Hasting told him he shot the cat, Detective Anthony Stafford obtained an arrest warrant for cruelty to non-livestock animals and torture, a felony offense.
Hasting was arrested on Thursday without incident, officials said. It's not clear if Hasting has obtained an attorney or when his case will head to trial.
According to officials, the cat has been named Robin and is now the official Animal Services shelter cat. The cat's story will be stared in order to promote anti-bullying and cruelty education programs.
"Robin has become a member of our shelter family and we are excited about having him," Ray Rentschler with Animal Services said.
The investigation by Animal Services was assisted the law enforcement, and a criminal case was assigned to West Criminal Investigations Division.