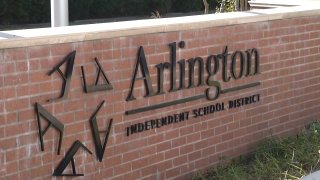 The Arlington ISD Board of Trustees voted Wednesday night to start the 2020-2021 school year virtually on Aug. 17. Board members also stated that at least the first four weeks would be online, despite a recent state decision from Texas Attorney General Ken Paxton.
Board members said they will reevaluate plans after the four-week mark, but that it could be as many as eight weeks before students are receiving instruction in-person in the classroom. About 800 students across four specialized programs will have the option to attend in person starting on Aug. 17.
The Arlington ISD Superintendent Dr. Marcelo Cavazos released a statement Wednesday night saying:
"From the onset of COVID-19 in March, I promised our students, staff and community that their safety would be my No. 1 priority and I haven't wavered. I'm disappointed that public school systems have been challenged with ever-changing guidelines, regulations, proclamations and mandates instead of a laser-focus on what's most important and that's starting the school year as safely as possible. With that said, the Arlington ISD still plans to begin our school year – virtually – on August 17, 2020. Tonight, I announced that Arlington ISD will follow the current Texas Education Agency (TEA) guidance that allows Districts to conduct the first four weeks of school virtually. From there, we can request an additional four weeks. When that time comes, the Arlington ISD will assess the COVID-19 risk factors in partnership with public health officials and consider all available options. Information on the new school year is available at our Return to School webpage."
Before making that announcement at Thursday's meeting, board members heard from nearly a dozen teachers and their family members expressing frustration and fear.
"Here we are trapped in this Groundhog's Day moment where we just keep going back and forth on what's going to happen, and we have to keep worrying about this and be advocates for ourselves, for our community and our students, instead of what we should do and put our energy into planning for our year," said teacher Kim Martinez.
The school district said it has partnered with Tarrant County Public Health and the Arlington Public Health Authority, to review and adjust practices and systems related to social distancing, personal protective equipment, and hygiene protocols.
Local
The latest news from around North Texas.
Face coverings will be required for all students in first through twelfth grade, employees, and visitors. Social distancing practices will be incorporated wherever possible, the school district said.
In some of the district's schools, that will include rerouting hallways to make them one way.
It will also include weekly questionnaires to be filled out by students and their parents via an app to track possible COVID-19 symptoms or exposure.
The district will require employees to complete one daily.