More than half of the largest 25 restaurant chains now have antibiotics policies in place. That's nearly triple what it was three years ago.
Why is that important? Although antibiotics can be helpful for treating sick animals used for food, they are often overused to prevent disease and to help animals grow faster.
"Overuse is a really big threat to public health," said Julia Calderone, Consumer Reports Health Editor. "It can lead to antibiotic-resistant bacteria, and that can make infections in humans really difficult to treat."

All of the progress at chain restaurants is due to changes in chicken policies. "No-antibiotic" beef and pork is still very limited.
So who passed with flying colors? Panera Bread and Chipotle came out ahead because nearly ALL of their meat and poultry are raised without antibiotics. Chick-fil-A, Taco Bell, Subway and Wendy's earned Bs and Cs. KFC improved with a B-minus, and McDonald's pulled in a C-plus.
But, while KFC says it is committed to serving chicken raised without antibiotics, those changes won't be implemented for a while. All of the chicken served at McDonald's has been raised without medically important antibiotics, but the company has made no progress on its beef and pork.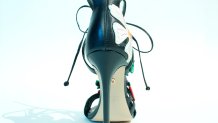 "We're definitely noticing a shift. Consumers are becoming more aware of the potential dangers of overusing antibiotics," Calderone said.
Local
The latest news from around North Texas.
Some big restaurants are slower to make the shift: Burger King, Dunkin Donuts and Starbucks, among others, pulled in Ds.
A full 11, including Applebee's, Chili's, Dairy Queen and Olive Garden, failed completely for having no policies at all.
It's also worth noting that numerous smaller chains are making progress. For example, all of the chicken served at Dickey's BBQ is no-antibiotic, as is all of the beef, pork, and poultry served at Cheesecake Factory.
NBC 5 has reached out to these restaurants for their responses. Here are their statements:

Chick-fil-A:
"We know our customers have placed their trust in us, and that is why we made one of the first and boldest commitments in the industry to antibiotic-free meat back in 2014." Here is more information about our commitment, which is also available at https://www.chick-fil-a.com/About/Great-Food/No-Antibiotics-Ever:
While consumers often see various messages about quick-service restaurants going antibiotic-free, not all antibiotic-free policies were created equal. Beyond many other antibiotic-free meat commitments, Chick-fil-A's No Antibiotics Ever commitment allows NO antibiotics of any kind – as defined by the FDA – starting from the egg.
As the nation's largest chicken chain, ensuring a stable supply of this type of chicken requires building the infrastructure from the ground up, as the supply of chicken raised with No Antibiotics Ever simply does not exist yet at this scale, which takes time.
We are proud to report that we have converted more than 50% of our supply to chicken raised with No Antibiotics Ever to date, and we are on track to achieve our goal of converting 100% of our chicken supply by December 31, 2019. We will continue to provide updates on our progress as we move forward."
Chipotle

"Chipotle Mexican Grill has earned an "A" grade in the Chain Reaction III Report and Scorecard, a ranking of the country's largest fast food and fast casual restaurant companies based on their policies for antibiotic use in farm animals. Chipotle has earned "A" grades in each of the three years the study has been conducted.

"We began serving meat from animals raised without antibiotics in 1999 and continue to be a leader in this area today," said Steve Ells, founder, chairman and CEO at Chipotle. "Doctors, public health officials and other experts agree that there is a growing risk of antibiotic-resistant infection, and the overuse of antibiotics in meat production is a significant part of that problem. Good animal husbandry reduces the need for antibiotics in livestock and promotes better animal welfare. We have simply chosen to serve meat raised in a way that emphasizes care over the use of chemicals."


Subway:
"Our U.S. restaurants only serve chicken raised without antibiotics and we continue to work towards the elimination of antibiotic use in our Turkey, Pork and Beef supply. Antibiotics are critical tools for keeping animals healthy and should be used responsibly to preserve their effectiveness in veterinary and human medicine. We are proud of our progress and are committed to continued work in this space."
McDonald's:
"Moving to cage-free eggs by 2025, sourcing chicken raised without antibiotics important to human medicine since 2015, and introducing McNuggets with no artificial flavors, colors or preservatives are all examples of our continued commitment to our US customers," said Marion Gross, Senior Vice President for McDonald's North America Supply Chain. "Because we know we can and must do more across the globe, last month we also announced that in 2018 we will begin implementing a chicken antibiotics policy in markets around the world. And we remain committed to making meaningful reductions in the use of antibiotics in beef and pork and will share our progress on beef in 2018."
Starbucks:
"Thank you for reaching out. Just as with our coffee, Starbucks goal is for everything we sell to be produced under high quality and ethical standards. For the food and dairy we serve, this means a commitment to social responsibility standards with animal welfare as a primary focus.
We are committed to working with and buying from farmers and suppliers who share our commitment to humane practices throughout an animal's lifecycle. We have a goal to serve only poultry raised without the routine use of medically important antibiotics in all company operated U.S. stores by 2020, and are routinely engaging our suppliers to make progress towards this goal. More on our animal welfare-friendly practices can be found on our Starbucks Newsroom here."
IHOP and Applebee's:
"We did not participate in the Chain Reaction survey this year, although we recognize the importance of responsible use of antibiotics in the supply chain. In fact, it is one important element of a much larger discussion at DineEquity, the parent company of IHOP and Applebee's, around our supply chain and animal welfare. In conjunction with leading external animal welfare experts, we are exploring positions on a variety of issues important to us, our guests and animal welfare organizations. This includes more robust policy development and transparent reporting of our progress."
Cracker Barrel:
"We are committed to providing our guests with high-quality, homestyle food. If we can't source quality ingredients that meet our high standards for a particular dish, we simply don't serve it. This commitment to quality ingredients is how we provide authentic cooking that is rooted in real, homestyle recipes. We're also committed to staying on top of the latest standards in animal welfare. We encourage our suppliers to lead the way in adopting the absolute best animal welfare practices. We use only beef, pork, and poultry raised without human-grade, medically important antibiotics."
Copyright CR - Consumer Reports