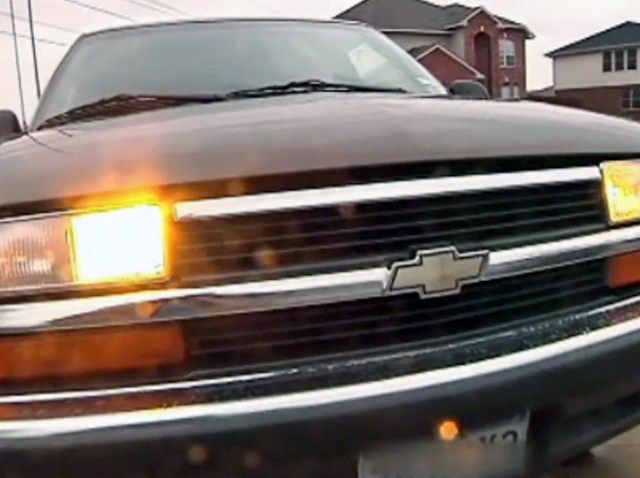 When a Fort Worth mother arrived home to find burglars walking out of her house with her stuff, she called 911 -- and then tried to block their getaway with her sport utility vehicle.
"Yes, my house is being broken into right now," Crysti Ellis told an emergency operator Thursday. "There's a car backed up into my driveway."
Ellis told police the front door of her house near Interstate 35 and Highway 170 had been kicked in. She soon saw two strangers walking out with electronics. Her three sons were in school at the time.
Local
The latest news from around North Texas.
When the thieves spotted her, they jumped in their car and tried to get away, she said.
"I was mad," she said.
She said she didn't want them to get away, especially with her husband's laptop computer that is owned by the trucking company where he works.
"I put it in gear like this and went nose-to-nose with him like that, and he couldn't go anywhere but this direction," she said, pointing toward her neighbor's house. "Blocked them in. I didn't know what else to do."
They got away by driving through the neighbor's yard, she said.
She didn't give up so easily.
"So then I slam it in reverse and go this way and try to T-bone him in right here," she said.
She started honking at the men.
"Don't do that," the 911 operator advised.
"OK, OK, OK," Ellis said.
The burglars' car struck her SUV, but only scratched the front bumper.
"Don't hit my car!" she is heard saying on the 911 call. "He just hit my car! The other one... They're... Oh my God!"
"I need you to calm down so I can talk to you, OK?" the 911 operator asked. "Officers are coming as fast as they can."
Ellis gave a detailed description of the men's car, right down to their license plate.
Officers and a police helicopter caught up to them within minutes.
Victor Sanchez and Reto Samaniego, both 19, were arrested on burglary and assault charges.
Looking back on the incident, Ellis said she would not suggest anyone else do what she did.
And police don't, either.
But in her case, she said it all worked out for the best.
"It was just unbelievable," she said. "First of all, I caught them. I recovered all my stuff. They're in jail. How much more perfect can you get than that?"