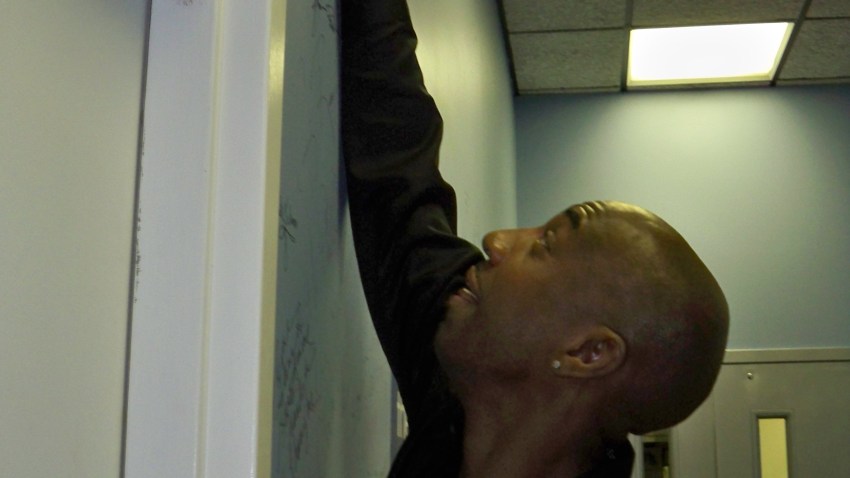 Ryan Getzlaf had a goal and an assist, Frederik Andersen made 32 saves to win his NHL playoff debut, and the Anaheim Ducks opened the postseason with a 4-3 victory over the Dallas Stars on Wednesday night.
Getzlaf, Kyle Palmieri and Mathieu Perreault scored in a dominant first period for the top-seeded Ducks, who began their playoff run on a dead sprint. Anaheim led 4-0 midway through the second period before Dallas got rolling in its first playoff game since 2008.
Captain Jamie Benn and Colton Sceviour had power-play goals, and Tyler Seguin scored with 6:07 left to trim the Ducks' lead to one. Anaheim hung on with a handful of big saves from Andersen, a 24-year-old Danish rookie.
Local
The latest news from around North Texas.
Game 2 is Friday.
Matt Beleskey had a goal and an assist before incurring a lower-body injury in the third period, leaving a hole on the Ducks' top line with Getzlaf and Corey Perry. Getzlaf then got hit in the face with the puck with 16 seconds left, sending him to the dressing room early.
Benn and Sceviour scored in their postseason NHL debuts, but the Stars couldn't escape their early hole despite an impressive game from their high-scoring top line of Benn, Seguin and Valeri Nichushkin, which accounted for 14 shots.
Kari Lehtonen stopped 31 shots for the wild-card Stars, who ended their five-year playoff drought thanks to new coach Lindy Ruff and seven Stanley Cup winners on their roster.
Anaheim is the Western Conference's No. 1 seed for the first time after the best regular season in franchise history, setting new marks for victories (54), points (116) and goals (263) while winning its second straight Pacific Division title.
But after the second-seeded Ducks were knocked off in the first round by Detroit last year, Anaheim is overdue for playoff success. The Ducks have won just one postseason round since their only Stanley Cup title in 2007, and just four players remain from that championship team.
One of those players is Teemu Selanne, who plans to retire after the season. The 43-year-old Finnish Flash began his 13th NHL postseason with an assist.
Stephane Robidas also faced his former teammates for the first time since Dallas traded the veteran defenseman to Anaheim last month.
Andersen, who went 20-5 in his first NHL season, got the start over veteran Jonas Hiller, who has fallen out of favor with coach Bruce Boudreau after a handful of poor starts.
After a raucous pregame reception from their orange towel-waving fans, the Ducks wasted no time. Nick Bonino lifted an exceptional pass over diving defenseman Aaron Rome to Palmieri for a backhand goal just 1:53 in.
Getzlaf led a rush and converted a rebound of Beleskey's shot off Lehtonen's mask later in the period, and Perreault put Anaheim up 3-0 with a power-play goal on exceptional passes from Patrick Maroon and Getzlaf.
Beleskey got credit for the Ducks' second power-play goal when Francois Beauchemin's long shot deflected off his leg midway through the second period.
Dallas got a 5-on-3 advantage for 56 seconds late in the period, and Benn scored easily on a rebound before Sceviour wired a stoppable shot through Andersen's legs, halving the Ducks' lead.
Anaheim controlled play in the third, with Maroon missing an open net, before Seguin tipped Trevor Daley's pass by Andersen. Seguin infamously scored just one goal in 22 playoff games for Boston last season.
NOTES: Anaheim's long-struggling power play hadn't scored multiple goals in a game since Jan. 15, when the Ducks got six against Vancouver. ... LW Ray Whitney returned to the Stars' lineup after missing the last six games with a lower-body injury, but D Brenden Dillon missed his second straight game with a lower-body injury. ... Nichushkin, who turned 19 last month, made his NHL playoff debut two months after playing in his first Olympics for Russia. ... Getzlaf had his 19th career multipoint playoff game, while Beleskey had his first.
Copyright AP - Associated Press