San Antonio police say they have few leads 48 hours after an Amber Alert was issued for a missing 3-year-old girl on Monday.
Lina Sardar Khil, police said, was last seen at about 5 p.m. on Dec. 20 in the 9400 block Fredericksburg Road in San Antonio.
According to the San Antonio Police Department, Lina is described as a white female who is 4 feet tall and weighs 55 pounds. She has brown eyes and brown, straight, shoulder-length hair that was in a ponytail when she was last seen. She was wearing a black jacket, a red dress and black shoes.
Law enforcement officials believe the child to be in grave or immediate danger and issued an Amber Alert Monday night.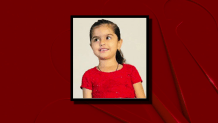 San Antonio Police Chief of Police William McManus said during a news conference on Wednesday that despite plenty of help from the community they have not had much success in finding the missing child.
McManus said investigators are treating her case as a missing person case and not an abduction because they don't have proof she was taken. Still, McManus said, he asked the FBI to send their Child Abduction Rapid Response Team which would provide resources to help in the search that the San Antonio Police Department doesn't have at the moment.
Texas Alert System
McManus said Wednesday officers have been searching wooded areas, working the neighborhood, and reviewing video recovered from the area and have not found any evidence that has helped in the search. The chief said canines were brought in the first night and picked up a scent but that they lost it.
"Tomorrow we will continue to search the areas, surrounding where we've already searched, making as much contact with the community as we can trying to find someone who knows anything about Lina," McManus said.
The chief asked anyone who has any info about Lina or her disappearance to call the department's missing person unit at 210-207-7660. McManus said no detail is too small or insignificant.
TEXAS STATEWIDE ALERT PROGRAMS
There are seven kinds of alerts that can be issued for people in Texas. They are listed below with links to a page with more information.
Active Shooter Alert (in development)