A 20-year-old man has been charged with capital murder in the deaths of his mother and sister in Allen on Saturday morning, police say.
Officers arrived at a home in the 1800 block of Nueces Drive at about 9:14 a.m. Saturday in response to a call for a "disturbance with weapons involved" and found two females dead, Allen police said.
The victims were identified Saturday as 17-year-old Burcu Hezar, an Allen ISD student, and 51-year-old Isil Borat. Both had been stabbed, police said.
Missing from the home was Burcu Hezar's brother, who police had identified as the suspect.
Police said 20-year-old Burak Hezar had taken a rideshare from the home to Frisco and another from Frisco to DFW International Airport, where he was scheduled to board a 5 p.m. flight to San Francisco.
Hezar's father had purchased the ticket for his son to visit, but police Sgt. Jon Felty said it was unclear when he bought the ticket and added that the father did not appear to know what had happened.
Hezar decided not to get on the flight and instead attempted to rent a car, but was denied, Felty said.
Through a joint effort with DFW Airport police, authorities located the suspect at the airport and he was taken into custody.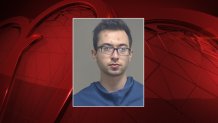 Before the bodies of his mother and sister were discovered Saturday morning, Hezar and his step-father had been in the home together, Felty said.
Local
The latest news from around North Texas.
When the stepfather found the bodies of the two victims, he "exchanged words" with Hezar, and ran frantically out of the house, Felty said.
Neighbors called police and officers responded to the scene. Outside the home Sunday, a memorial of flowers grew as friends stopped by to pay their respects. Some prayed and shared words about Burcu.
One friend described the family as close-knit and compassionate not only to humans but animals, as well.
"They had three cats and the three cats are siblings. They didn't even split those up when they adopted them," she said. "So, the fact that this happened to them is really heartbreaking, because they're the type who takes in multiple animals just because they're siblings, and they didn't want to rip that family. The fact this is happening to their family now is shocking."
Uday Tummala lives next door and described the family as reserved and kind, but said he did not know them on a personal level.
Tummalay was outside Saturday morning with his children prior to police arriving. They were instructed to stay inside until it was deemed safe, Tummalay recalled.
"You don't know exactly what goes on in each home and I wish they [family] reached out, maybe," he said. "I don't know their personal family situation, but I wish things ended differently than what happened."
Felty said police had been out to the home before, but not in reference to Hezar.
Burak Hezar was being held in the Collin County jail on one count of capital murder. His bail has been set at $2 million.
The deaths mark the fifth and sixth homicides in Allen this year, a high number for the city that has gone some years without any and occasionally one or two, Felty said.
On April 5, the bodies of Towhidul Islam, 54; Iren Islam, 56; Altafun Nessa, 77; Tanvir Towhid, 21; and 19-year-old twins Farbin Towhid and her brother Farhan Towhid were found in an Allen home.
Police said it appeared the two brothers entered into a suicidal pact to kill their family members and themselves.
The six domestic homicides within a month are "alarming," Felty said.
"Obviously this is a very ... tragic situation, there's really no other way to describe it," he said.
Anyone with more information about the slayings Saturday who wishes to remain anonymous can submit a tip by texting ALLENPD to 847411.