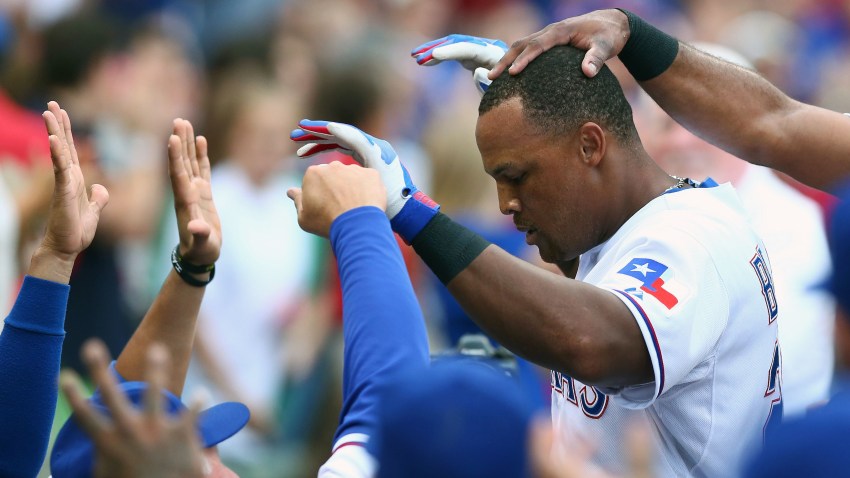 Once again, Adrian Beltre has been named a finalist for the Hank Aaron Award.
The award has recognized the most outstanding offensive performer in each league since it was established in 1999.
Beltre was also a finalist in 2013, but the AL award went to Miguel Cabrera.
Local
The latest news from around North Texas.
"For the seventh year in a row, baseball fans have a say in the winners of this prestigious award. Fans can vote for their American and National League selections online at MLB.com and the 30 club sites through Oct. 14, MLB said. "For the first time in the award's history, fans can also cast their votes on Twitter by using a unique hashtag for each finalist. Fourteen finalists were named All-Stars this year and overall the 30 finalists combined to have been named All-Stars 76 times. The group also features 18 players under the age of 30, with 11 aged 25 or younger."
The award is also voted on by Hall of Fame players and Hank Aaron.
The finalists for the 2016 Hank Aaron Award are:
American League
Baltimore Orioles | Mark Trumbo (#VoteTrumbo)
Boston Red Sox | David Ortiz (#VotePapi)
Chicago White Sox | José Abreu (#VoteAbreu)
Cleveland Indians | José Ramírez (#VoteJRam)
Detroit Tigers | Miguel Cabrera (#VoteMiggy)
Houston Astros | Jose Altuve (#VoteAltuve)
Kansas City Royals | Eric Hosmer (#VoteHosmer)
Los Angeles Angels | Mike Trout (#VoteTrout)
Minnesota Twins | Brian Dozier (#VoteDozier)
New York Yankees | Didi Gregorius (#VoteDidi)
Oakland Athletics | Khris Davis (#khRushTheVote)
Seattle Mariners | Nelson Cruz (#VoteBoomstick)
Tampa Bay Rays | Evan Longoria (#VoteLongo)
Texas Rangers | Adrian Beltre (#VoteBeltre)
Toronto Blue Jays | Josh Donaldson (#VoteDonaldson)

National League
Arizona Diamondbacks | Jake Lamb (#VoteLamb)
Atlanta Braves | Freddie Freeman (#VoteFreddie)
Chicago Cubs | Kris Bryant (#VoteBryant)
Cincinnati Reds | Joey Votto (#VoteVotto)
Colorado Rockies | Nolan Arenado (#VoteNolan)
Los Angeles Dodgers | Corey Seager (#VoteCorey)
Miami Marlins | Christian Yelich (#VoteChristian)
Milwaukee Brewers | Ryan Braun (#VoteBraun)
New York Mets | Yoenis Céspedes (#VoteYo)
Philadelphia Phillies | Odubel Herrera (#VoteHerrera)
Pittsburgh Pirates | Gregory Polanco (#VoteCoffee)
St. Louis Cardinals | Stephen Piscotty (#VotePiscotty)
San Diego Padres | Wil Myers (#VoteMyers)
San Francisco Giants | Brandon Crawford (#VoteBCraw)
Washington Nationals | Daniel Murphy (#VoteMurph)