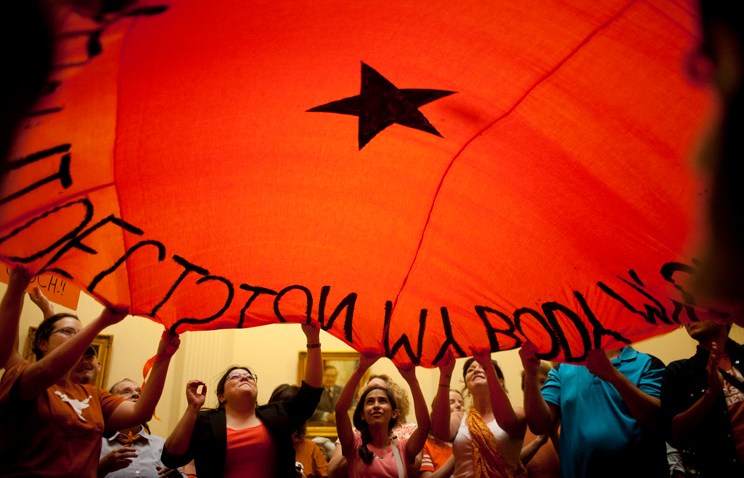 A federal court challenge to new limits on abortions in Texas may hinge on complicated legal questions created by a myriad of U.S. Supreme Court rulings over the past decade on when a state may ignore medical considerations and limit the procedure, attorneys in the case argued Wednesday.
No matter what Judge Lee Yeakel rules, the case will almost certainly go to the conservative 5th Circuit Court of Appeals, where Planned Parenthood has had little success in fighting Texas laws that limit when, where and how women can get abortions.
Other appeals courts have reached different conclusions on laws similar to the one passed in Texas, setting up a possible appeal to the U.S. Supreme Court.
Local
The latest news from around North Texas.
Planned Parenthood, other abortion providers and the Center for Reproductive Rights have challenged the new law, which gained national attention when Democratic state Sen. Wendy Davis mounted a nearly 13-hour filibuster against it in June that succeeding in forcing Gov. Rick Perry to call the Republican-led Legislature back for a second special session just to pass it.
Davis now is running for governor on a women's rights platform, and with Perry retiring, her likely Republican opponent will be Attorney General Greg Abbott, whose office was tasked with defending the law during the two-day hearing.
Yeakel said he would rule on the constitutionality of the law before Tuesday, when it is scheduled to take effect.
The law would ban abortions from the 20th week of pregnancy onward and, beginning in October 2014, require all abortions to take place in surgical centers.
But those restrictions were not addressed in the current lawsuit. It focuses on a requirement that doctors who perform abortions have admitting privileges at a hospital within 30 miles of the clinic and that they follow Food and Drug Administration guidelines when administering abortion-inducing pills.
The abortion providers testified that they have applied for admitting privileges for their doctors at hospitals, but that none of the hospitals have granted those privileges yet. Hospitals set their own standards for granting such privileges, and for business reasons, they often disqualify doctors who don't regularly perform surgeries or who don't live nearby. The providers argued it's not fair to subject them to another corporation's subjective standards in order to do their job.
The providers also argued that the FDA guidelines for administering abortion-inducing medications are out of date and presented evidence that new regimens are more effective and have fewer complications.
Janet Crepps, the lead attorney for the abortion providers, told Yeakel Wednesday that if the law is allowed to take effect, it will immediately force a third of the abortion clinics in Texas to close. She said under past Supreme Court rulings, the state has the burden to show that the requirements are necessary to improve health care for women, and that Texas has failed to meet that standard.
"The admitting privileges requirement will not help the small number of women who require hospital admission, and it will hurt the tens of thousands of women who will be denied access to an abortion," she argued. The requirement that doctors follow 18-year-old guidelines will "deny women the benefit of medical advances," she added.
If the law fully takes effect Tuesday, Crepps said abortion clinics in Fort Worth, Harlingen, Killeen, Lubbock, McAllen and Waco will have to close due to the admitting privileges requirement. The onerous FDA protocol for the abortion pill would make it difficult for doctors to administer, she added. No abortion clinics will be operating outside of El Paso, Dallas, Austin and Houston, abortion rights advocates have said.
Defending the law, Deputy Solicitor General Andy Oldham said the burden was not on the state to prove the law was necessary, but on the abortion rights supporters to explain why the Legislature shouldn't have the authority to enact it.
Oldham said if the providers disagree with the FDA-approved regimen, they should appeal to the FDA. If they find it difficult for their doctors to get admitting privileges, they should sue the hospitals. If they think lawmakers are setting bad policy, they should try to get them voted out of office.
"The state has an obvious interest to require that such risky procedures are performed according to FDA guidelines," Oldham told Yeakel. The abortion providers "have an amazing burden to show that clinics will close and that every single application of that statute is unconstitutional, and they've failed to do that."
The Supreme Court has ruled that the state doesn't necessarily have to allow the procedures that doctors think are best.
In questioning the attorneys, Yeakel appeared more concerned with previous Supreme Court rulings than whether abortion clinics would be forced to close. He seemed concerned that each side felt it was the other's responsibility to make a legally compelling argument for its position.
"I recognize that the clock is ticking," Yeakel said, referring to Tuesday, when the law takes effect. But acknowledging the case is complicated and will likely be appealed, he added: "I will get a final judgment out as quickly as I can get a final judgment out."
Copyright AP - Associated Press